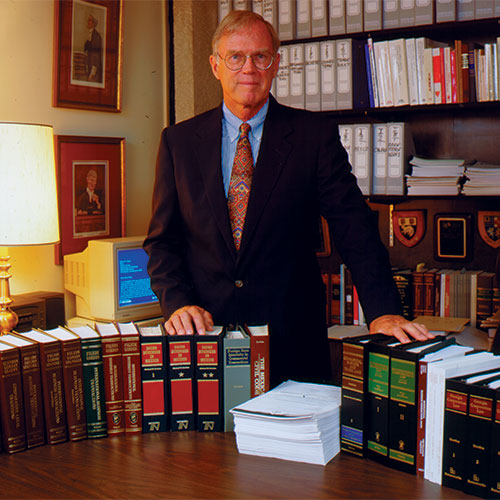 Michael W. Gordon
Professor
About
Education
Maestria en Derecho, Universidad Iberoamericana, Mexico;
Dipl. de Droit Compare, Strasburg, France;
M.A., Trinity College;
J.D., University of Connecticut;
B.S., University of Connecticut.
Teaching
International Business and Trade Law
International Litigation
Comparative Law
Law of NAFTA
Professional Activities
University of Florida: Joined College of Law faculty in 1968 as a Visiting Associate Professor; Associate Professor (1969), Professor (1971), Chesterfield Smith Professor (1994-2005), John H. & Mary Lou Dasburg Professor (2005-2008).
Additional Educational Experience: Distinguished Fulbright Chair at Universidade Catolica Portuguesa. Visiting Faculty: Universidad de Costa Rica, University of Frankfurt, Centennial Professor in Law, London School Of Economics, University of Konstanz, Escuela Libre de Derecho, Francisco Marroquin (Guatemala), Universities of Duke, Alabama, George Washington. Scholar in Residence: Bellagio Institute, Italy. Fulbright Professor: Mexico, Guatemala, Germany, Portugal.
Law Practice: Associate, Shipman & Goodwin, Hartford, Conn. (1963-65); Consultant to Departments of State, Commerce, and Justice, to government agencies in Brazil, Honduras, India, Mexico, Nigeria, Oman, Panama, Paraguay, Sudan, and Yugoslavia, and on complex international litigation in thirty-four nations.
Career Highlights: Appointed by Clinton and Bush governments to the NAFTA and WTO dispute panels; coauthor of more than sixty books and dozens of chapters and articles; Scholar-in-Residence, Bellagio Foundation; Lecturer for Council on Foreign Relations in seven states; visiting lecturer at law schools, business associations, and government ministries in thirty-three nations.
Publications
Current books
INTERNATIONAL BUSINESS TRANSACTIONS: CASES AND MATERIALS (Westgroup, 8th ed., 2005) (with Ralph H. Folsom, John A Spanogle & Peter Fitzgerald).
INTERNATIONAL BUSINESS TRANSACTIONS HORNBOOK (Westgroup, 2d. ed., 2001) (with Ralph H. Folsom & John A. Spanogle).
INTERNATIONAL TRADE AND INVESTMENT IN A NUTSHELL (Westgroup, 2nd ed., 2000) (with Ralph F. Folsom and John A. Spanogle).
NAFTA Dispute Resolution as a Method of Avoiding National Courts, Symposium Edition, 13 Florida Journal of International Law 16 (2000)
NAFTA: A PROBLEM-ORIENTED CASEBOOK (Westgroup, 2005) (with Ralph H. Folsom & David Gantz), Teacher's Manual (2005) & Document Supplement (2005).
HANDBOOK OF NAFTA DISPUTE RESOLUTION (Two volumes, Transnational Publishers, 2000) (with Ralph H. Folsom & John A. Spanogle).
NAFTA and Financial Dispute Resolution, in NON-JUDICIAL DISPUTE SETTLEMENT IN INTERNATIONAL FINANCIAL TRANSACTIONS (Kluwer, 2000, Norbert Horn & Joseph Norton eds.).
Representative Law Reviews / Journals
NAFTA Dispute Resolution as a Method of Avoiding National Courts (Symposium Edition) 13

Florida Journal of International Law

16 (2000)
Cuba: Wild Card in the Caribbean, 5

NAFTA Law Review

278 (1999)