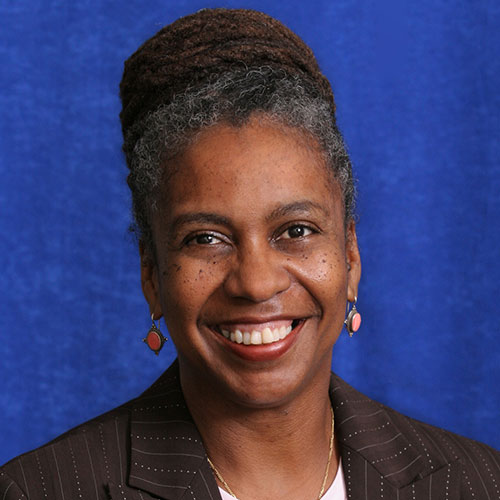 Michelle S. Jacobs
Professor of Law
Mailing Address:
Box #117625 Gainesville FL 32611
Email:
jacobsm@law.ufl.edu
Phone:
(352) 273-0940
About
Jacobs teaches Criminal Law, Criminal Procedure, International Criminal Law, Critical Race Theory and a seminar, Criminal Law in the Virtual Context, which examines the ways technological development creates interesting intersections between traditional civil law and criminal law. Her students blog about crime and technology. You can read their work here.
Before taking on the teaching role Jacobs was an experienced trial attorney. She represented union workers in District Council 37, New York's second largest union and then went on to represent plaintiffs in federal civil rights litigation under the Fair Housing Act 42 U.S. C 3601, et seq. After transitioning her practice to criminal defense, she represented defendants in federal cases in the Southern District of New York and in the state courts of New York and New Jersey.
Education
J.D., Rutgers University
A.B., Princeton University (cum laude)
Teaching and Scholarship
Criminal Law, Critical Race Theory, Women Defendants in the Criminal Justice System
Professional Activities
University of Florida: Joined Law faculty as Assistant Professor in 1993. Named Associate Professor of Law (1996), Professor (1998); UF Association of Black Faculty and Staff (president), 1994-96.
Additional Academic: Visiting Professor, Howard University Law School, Washington, D.C. (1999-2002); Visiting Associate Professor, Columbia University Law School, New York (1996); Adjunct Professor, CUNY College of Law, New York (1993); Staff Attorney, Urban Legal Clinic, Rutgers University, New Jersey (1990-93).
Legal Practice: McGee & Jacobs (NY, 1985-90); Fair Housing Council of Northern New Jersey, Inc. (1983-85); Municipal Employees Legal Services (NY, 1982-83).
Professional Affiliations: New York State Bar, New Jersey State Bar, American Bar Association, Clinicians of Color (Founding Member), Association of American Law Schools (Clinical Section).
Media Involvement
Courses
Substantive law of crimes, including principles of punishment, elements of typical crimes, responsibility and defenses.
Covers commencement of formal criminal proceedings; bail, the decision to prosecute, the grand jury, the preliminary hearing, venue, joinder and severance, and speedy trial.
This course will study the development of international criminal law, and the development of the institutions where international criminal cases will be heard, such as the International Criminal Tribunals for Yugoslavia and Rwanda and the International Criminal Court. The course will focus entirely on criminal law, meaning both international law regarding serious criminal offenses, such as genocide and crimes against humanity, as well as domestic crime which has international implications.
This course examines the interplay between race, crime and the law in the US; covers the role of history as context for understanding contemporary laws that govern the criminal justice system, and how existing laws, their applications, and justice system practices, could be restructured and re-imagined to further racial justice.
Publications
Books
FEMINIST LEGAL THEORY: BEYOND ESSENTIALISM (co-editor, New York University Press) (2002)
Representative Law Reviews / Journals
Full Legal Representation for the Poor: The Clash Between Lawyer Values and Client Worthiness, 44 How. L.J. 257 (2001) [bepress]
Coming Full Circle: The African American Struggle for Full Citizenship Under Color of Law, Transforming Anthropology (Vol 9, 2000)
Prostitutes, Drug Users and Thieves: The Invisible Women in the Campaign to End Violence Against Women, 8 Temp. Pol. & Civ. Rts. L. Rev. 459 (1999)
Requiring Battered Women Die: Murder Liability for Mothers Under Failure to Protect Statutes, 88 J. Crim. L. & Criminology 579 (1998)
People From the Footnotes: The Missing Element in Client Centered Counseling, 27 Golden Gate U. L. Rev. 345 (1997).