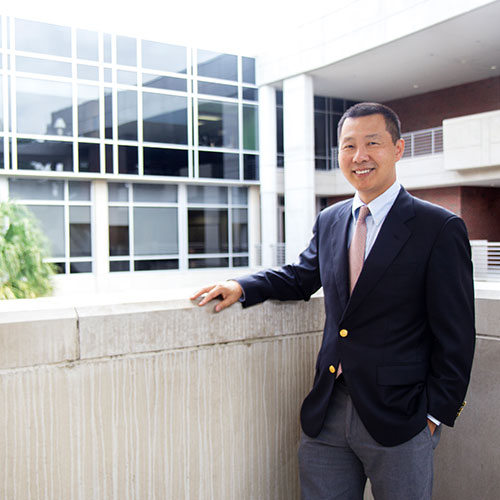 Robert J. Rhee
John H. and Mary Lou Dasburg Professor of Law
Professor of Law
About
Professor Rhee's legal experience includes positions as a law clerk on the U.S. Court of Appeals for the Third Circuit, and a trial attorney in the Honors Program of the U.S. Department of Justice. He also has significant investment banking experience. He was a vice president in financial institutions investment banking at Fox-Pitt, Kelton (then a unit of Swiss Re) in New York, a real estate investment banker at Deutsche Banc Alex. Brown, and an M&A investment banker at UBS Warburg in London. He has worked on public and private M&A assignments, distressed restructurings, private equity funding, and debt and equity issuances. He is an active writer and scholar. His articles have been published in leading journals including New York University Law Review, Michigan Law Review, Northwestern University Law Review, Vanderbilt Law Review, Washington University Law Review, Minnesota Law Review, Notre Dame Law Review, Emory Law Journal, Journal of Corporation Law, University of Pennsylvania Business Law Journal, Stanford Journal of Law, Business & Finance, Economic Notes: Review of Banking, Finance & Monetary Economics, William & Mary Law Review, Florida Law Review, Arizona State Law Journal, and George Mason Law Review.
Professor Rhee is also the author of several books: :  LLCs, Partnerships, and Corporations (West 2021) Essential Concepts of Business For Lawyers (3rd edition, Wolters Kluwer Law & Business, 2020); Limited Liability Entities: State By State Guide To LLCs, LLPs, and LPs, volumes 1-10 (co-authored, Wolters Kluwer Law & Business); Corporate Finance (Wolters Kluwer Law & Business, 2016); Business Organizations: Law and Policy (co-authored, 10th ed., West 2022); Legal Negotiations (co-authored, West 2017).
Professor Rhee's scholarship is frequently cited in leading law reviews and academic books, and he has been cited in federal and state judicial opinions and significant government reports. He has testified before Congress as an expert witness in financial markets and credit rating agencies. He has testified as an expert in other proceedings. He has taught law in the Netherlands, United Kingdom, and Korea, and business at Johns Hopkins Carey Business School and University of Maryland Robert H. Smith School of Business. He has served as a U.S. Scholar and Distinguished Lecturer in Korea in connection with an award of a Fulbright Grant.
Education
J.D., George Washington University
M.B.A., University of Pennsylvania (Wharton)
B.A., University of Chicago
Courses
Corporate Finance
Security Regulation
Corporations
Unincorporated Business Enterprises
Business Associations
Creditors' Remedies and Bankruptcy
Accounting for Lawyers
Mergers & Acquisitions
Publications
Books
Corporate Finance (Aspen Publishers 2d ed.,  forthcoming 2023)
Business Organizations: Law and Policy (West 10th ed., 2022) (co-authored) [Link]
LLCs, Partnerships, and Corporations (West 2021) [Link]
Essential Concepts of Business for Lawyers (Wolters Kluwer Law & Business 3d ed., 2020) [Link]
Legal Negotiations (West, 2017) (co-authored) [Link]
Limited Liability Entities: State by State Guide to LLCs, LPs, and LLPs. Vols. 1-10 (Aspen Publishers, Wolters Kluwer Law & Business, 2015) (co-authored) [Link]
Selected Articles
• "A Theory of Capitalized Cost Asset: Coasean Firms, Asset Values, and Acquisition Premiums" (working paper, in submission)
"The Neoliberal Corporate Purpose of Dodge v. Ford and Shareholder Primacy: A Historical Context 1919-2019," 28 Stan. J.L. Bus. & Fin. (forthcoming 2023) [SSRN]
"The Irrelevance of Delaware Corporate Law," 48 J. Corp. L. (forthcoming 2022) [SSRN]
"A Liberal Theory of Fiduciary Law," 25 U. Pa. J. Bus. L. (forthcoming 2022) [SSRN]
"The Political Economy of Corporate Law and Governance: American and Korean Rules Under Different Endogenous Conditions and Forms of Capitalism," 55 Wake Forest L. Rev. 101 (2020) [SSRN]
"Corporate Short-Termism and Intertemporal Choice," 96 Wash. U. L. Rev. 496-558 (2018) [SSRN]
"A Legal Theory of Shareholder Primacy," 102 Minn. L. Rev. 1951-2017 (2018) [SSRN]
"Intra-Firm Monitoring of Executive Compensation," 69 Vand. L. Rev. 695-759 (2016) [SSRN]
"On Duopoly and Compensation Games in the Credit Rating Industry," 108 Nw. U. L. Rev. 85-137 (2013) [SSRN]
"The Tort Foundation of Duty of Care and Business Judgment," 88 Notre Dame L. Rev. 1139-1198 (2013) [SSRN]
"A Financial Economic Theory of Punitive Damages," 111 Mich. L. Rev. 33-87 (2012) [SSRN]
"A Production Theory of Pure Economic Loss," 104 Nw. U. L. Rev. 49-104 (2010) [SSRN]
"Bonding Limited Liability," 51 Wm. & Mary L. Rev. 1417-1488 (2010) [SSRN]
"Fiduciary Exemption for Public Necessity: Shareholder Profit, Public Good, and the Hobson's Choice during a National Crisis," 17 Geo. Mason L. Rev. 661-736 (2010) [SSRN]
"Toward Procedural Optionality: Private Ordering of Public Adjudication," 84 N.Y.U. L. Rev. 514-571 (2009) [SSRN]