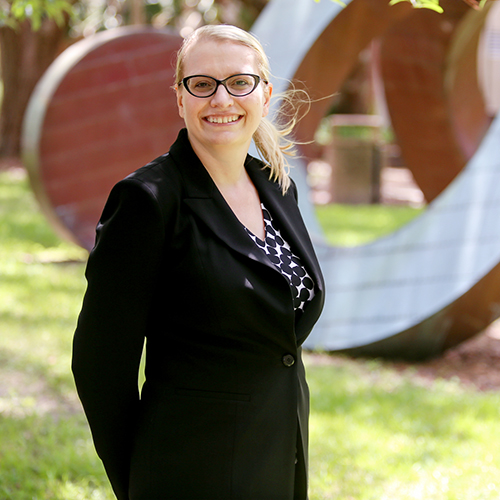 Sarah Lewis
Reference Librarian
Mailing Address:
Spessard L. Holland Law Center
184M Holland Hall
P.O. Box 117628
Gainesville, FL 32611-7628
Email:
slewis@law.ufl.edu
Phone:
352-273-0716
About
Sarah Lewis joined the University of Florida Levin College of Law's Legal Information Center in 2016. She is currently a reference librarian and teaches legal research – a course focusing on teaching students how to research statutory and case law on both a state and federal level. In addition, Sarah is the library liaison to tax professors at the Levin College of Law and to the Florida Tax Review. Sarah earned her J.D. from Vanderbilt University Law School.
EDUCATION
J.D., Vanderbilt University School of Law
M.L.I.S., Kent State University
M.S. in Knowledge Management, Kent State University
B.A., University of Miami (cum laude)
PROFESSIONAL ACTIVITIES
University of Florida: Joined Legal Information Center in 2016 as Reference Librarian
Legal Experience: Public Finance Attorney in Atlanta, Georgia; Corporate Attorney in Atlanta, Georgia
Southeastern Chapter American Association of Law Libraries
American Association of Law Libraries
Academic Law Libraries Special Interest Section Member
Research Instruction & Patron Services Special Interest Section Member
Social Responsibility Special Interest Section Member
State Bar of Georgia
Courses
This course introduces students to basic principles of researching statutory and case law at both federal and state levels. Students learn how to locate relevant statutes and case law using both electronic and print formats, including the use of indexes and secondary legal materials such as encyclopedias and treatises.