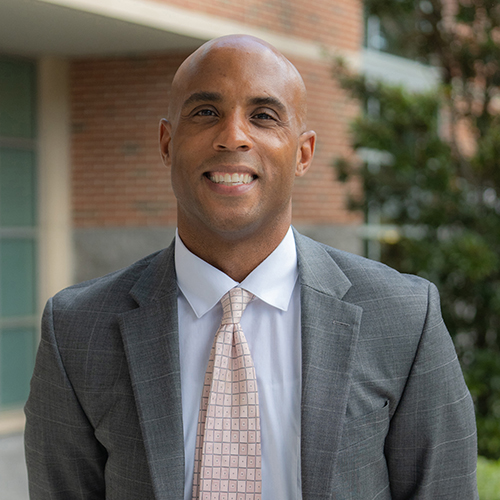 Shani M. King
University Term Professor
Professor of Law
Emeritus Director, Center on Children and Families
About
Shani M. King is a Professor of Law and Emeritus Director of the law school's Center on Children and Families. Prior to joining the UF Law faculty, Professor King practiced at Legal Services for Children, Inc. in San Francisco, California, where he litigated cases under the United Nations Convention Against Torture and represented children in immigration, dependency, guardianship, and school discipline proceedings. Professor King is an active writer and scholar in the area of children's rights and family law, with a particular interest in the role of child's counsel in various contexts, and more generally in the rights of children and families – especially those from traditionally under served populations – and the public responsibility to protect those rights.
Professor King's wide ranging scholarship has been recognized and cited by leading scholars in the field, has been cited and relied upon by federal courts, and is also frequently relied upon by not-for-profit organizations and practitioners in the field.
Professor King received a B.A. from Brown University, a J.D. from Harvard Law School, and an Mst. in International Human Rights Law from Oxford University. Following law school, he was a Harvard Fellow with EDUCA, a not-for-profit organization in the Dominican Republic that was conducting an analysis of a major educational reform effort. Afterward, Professor King practiced securities litigation and white-collar criminal defense at Fried, Frank, Harris, Shriver & Jacobson and Morvillo, Abramowitz, Grand, Iason & Silberberg in New York City.
Professor King has been active in local, regional and national child welfare and juvenile reform, serving on the board of the Youth Law Center, the Florida Chapter of the National Association for the Advancement of Children, and on the advisory board of Florida Children's First. He is currently on the advisory board of the Florida Health Justice Project, an organization focused on removing barriers to affordable health care in Florida, and was recently appointed by the Governor to serve on a statewide committee charged with improving parent and child representation in Florida's dependency system.
Education
M. St., University of Oxford
J.D., Harvard Law School
B.A., Brown University
Teaching and Scholarship
International and regional human rights, international and transnational law, and comparative law; children's rights and family law; the role of children's counsel in various contexts; family autonomy in traditionally underserved populations; race and race relations; immigration law and legal ethics; and cross-border litigation.

Courses
Cross-Border Litigation
Family Law
Publications
Books
Have I Ever Told You Black Lives Matter? (Tilbury House Publishers 2021)
The Oxford Handbook of Children's Rights Law (Oxford University Press) (forthcoming 2019) (Shani King and Jonathan Todres, Eds.)
Have I Ever Told You? (Tilbury House Publishers) (2019) (award winning children's book)
Have I Ever Told You? (Beaver's Pond Press 2018) (award winning children's book)
Academic Articles
"Contextualizing (Children's) Immigation in Law, History, Theory and Politics, " 2021 Mich. St. L. Rev. (forthcoming)
"Cooperative Federalism and SJIS," 61 B.C. L. Rev. 8 (2020) (with Nicole Silvestri Hall) [SSRN]
"Unaccompanied Minors, Statutory Interpretation, and Due Process," 108 Calif. L. Rev. 1 (2020) [SSRN]
"Immigration, Adoption and Our National Identity," 26 Duke Journal of Gender Law & Policy 85-107 (2019) (focus of a symposium at Duke Law School for which the discussants were Dean Kerry Abrams and Prof. Katheryn Bradley) [SSRN]
"Child Migrants and America's Evolving Immigration Mission," 32 Harvard Human Rights Journal 59 (2019) [SSRN]
"A Center on Children and Families for the Future" in Daedalus (2019), available here
"The Intersection of Juvenile Justice and Early Childhood." Fla. L. Rev. Forum (2019) (Shani King, Annah Ayasse, Alyssa Mikytuck, Rachel F Barr and Jennifer F. Woolard) [SSRN]
"Life-changing decisions: Exploring proximal and distal motivations behind why American parents adopt domestically or internationally," Global Journal of Human Social Science, 18(7), 1-14. (Zhang, Y., Harris, V.W., Diehl, D., King, S.M., Schmeer, A., & Speegle, K.C.) (2018)
"Lessons from the Baby Elmo Project: Fostering the Relationships Between Incarcerated Teen Parents and Their Young Children," 93 N.C.L. Rev. 1381 (2015) (with Jennifer Woolard and Rachel Barr) [SSRN]
"The Hague Convention and Domestic Violence: Proposals for Balancing the Policies of Discouraging Child Abduction and Protecting Children from Domestic Violence," 38 Family Law Quarterly 299 (2013) [SSRN]
"Alone and Unrepresented: A Call to Congress to Provide Counsel for Unaccompanied Minors," 50 Harvard Journal on Legislation 331 (2013) [SSRN]
"Owning Laura Silsby's Shame: How The Haitian Child Trafficking Scheme Embodies The Western Disregard for the Integrity of Poor Families," 25 Harvard Human Rights Journal 1 (2012) [SSRN]
"The Family Law Canon in a (Post?) Racial Era," 72 Ohio State Law Journal 575 (2011) [SSRN]
"US Immigration Law and the Traditional Nuclear Conception of Family: Toward a Functional Definition of Family That Protects Children's Fundamental Human Rights," 41 Colum. Hum. Rts. L. Rev. 509 (2010) [SSRN]
"Challenging MonoHumanism: An Argument for Changing the Way We Think About Intercountry Adoption," 30 Mich. J. Int'l L. 413 (2009) [SSRN]
"Race, Identity and Professional Responsibility: Why Legal Services Organizations Need African American Staff Attorneys," 18 Cornell J. L. & Pub. Pol. 1 (2008) [SSRN]
SEE VITA FOR COMPLETE LIST OF PUBLICATIONS.