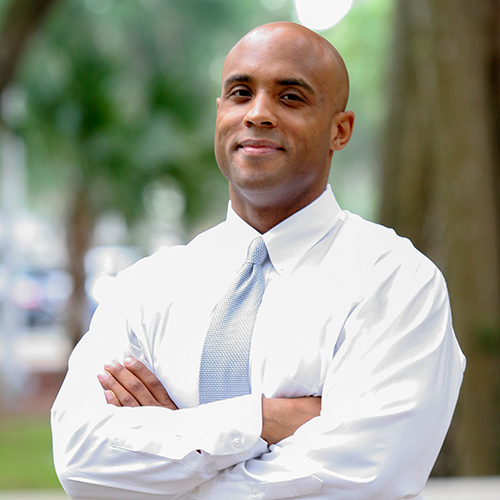 Shani M. King
Professor
Director, Center on Children and Families
Mailing Address:
Box #117625 Gainesville, FL 32611
Email:
kings@law.ufl.edu
Phone:
(352) 273-0951
About
Shani M. King is a Professor of Law and Director of the law school's Center on Children and Families. Prior to joining the UF Law faculty, Professor King practiced at Legal Services for Children, Inc. in San Francisco, California, where he litigated cases under the United Nations Convention Against Torture and represented children in immigration, dependency, guardianship, and school discipline proceedings. Professor King is an active writer and scholar in the area of children's rights and family law, with a particular interest in the role of child's counsel in various contexts, and more generally in the rights of children and families – especially those from traditionally under served populations – and the public responsibility to protect those rights. Professor King's work has been published in leading journals including the North Carolina Law Review, the Ohio State Law Journal, the Harvard Journal on Legislation, the Harvard Human Rights Journal, the Columbia Human Rights Law Review, the Michigan Journal of International Law, the Family Law Quarterly, the Cornell Journal of Law and Public Policy, and the Clearinghouse Review Journal of Poverty Law and Policy.
Professor King's wide ranging scholarship has been recognized and cited by leading scholars in the field, has been cited and relied upon by federal courts, and is also frequently relied upon by not-for-profit organizations and practitioners in the field.
He received a B.A. from Brown University, a J.D. from Harvard Law School, and an Mst. in International Human Rights Law from Oxford University. Following law school, he was a Harvard Fellow with EDUCA, a not-for-profit organization in the Dominican Republic that was conducting an analysis of a major educational reform effort. Afterward, Professor King practiced securities litigation and white-collar criminal defense at Fried, Frank, Harris, Shriver & Jacobson and Morvillo, Abramowitz, Grand, Iason & Silberberg in New York City.
Professor King has been active in local, regional and national child welfare and juvenile reform, serving on the board of the Youth Law Center and the Florida Chapter of the National Association for the Advancement of Children, and on the advisory board of Florida Children's First.
Education
M. St., University of Oxford
J.D., Harvard Law School
B.A., Brown University
Teaching and Scholarship
International human rights, children's rights and family law; the role of children's counsel in various contexts; family autonomy in traditionally underserved populations; immigration law and legal ethics.
Professional Activities
University of Florida: Joined College of Law in 2007 as Assistant Professor; Promoted to Associate Professor in 2010; Tenured and promoted to Professor of Law in 2013.
Prior Academic Experience: University of California Boalt Hall School of Law, Guest Lecturer, School Discipline Clinic, (March 2006), University of San Francisco School of Law, Guest Lecturer, Child Advocacy Clinic (April 2006).
Prior Professional Experience: Legal Services for Children, Inc. (San Francisco, Calif.) (2004-2007); Morvillo, Abramowitz, Grand, Iason & Silberberg (New York, N.Y.) (2003-2004), Fried, Frank, Harris, Shriver & Jacobson (New York, NY (2000-2003)
Bar Admissions
California, New York, U.S. District Courts for the Southern and Eastern Districts of New York.
Courses
Covers child abuse and neglect, juvenile justice, adoption and foster care, and discusses education and health entitlements of children and conflicts between parents and children over medical decision-making, religion, schooling and emancipation.
This course is about international children's rights. The course explores the concept of childhood itself, what human rights violations children face today and the role that gender plays in determining the life chances of children. This course also considers child migration, more specifically, child trafficking, child labor, child sex trafficking and also considers children in armed conflict. In addition this course considers the movement of children for family reasons, and more specifically, transnational adoption, children who have lost their parents due to AIDS, child refugees and asylum seekers.
Covers the law of the family, including cases, statutes and constitutional precedents relating to marriage, divorce, non-traditional families, child custody, child and spousal support, adoption and reproductive technologies. Students will complete exercises in negotiation and drafting of documents in a simulated family law transaction.
Examines role of the individual lawyer and legal profession in contemporary society. Topics include the role of the lawyer as advocate, counselor, and officer of the court; the ethical and moral obligations lawyers owe their clients, other lawyers, courts, and society as derived from general ethical and moral principles and as embodied in model rules of professional conduct and the Restatement of the Law Governing Lawyers; and problems encountered in representing particular categories of clients, including individuals, corporations, criminal defendants, and indigents, among others.