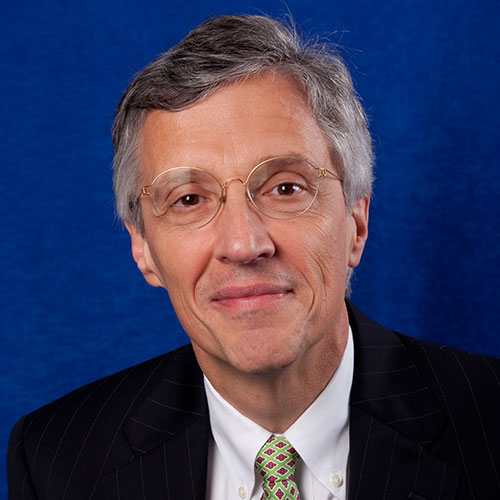 William H. Page
Professor
Marshall M. Criser Eminent Scholar in Electronic Communications and Adminstrative Law
Mailing Address:
Box #117625 Gainesville, FL 32611
Email:
page@law.ufl.edu
Phone:
(352) 273-0929
Expertise
About
William H. Page, the Marshall M. Criser Eminent Scholar, is the author, with John Lopatka, of The Microsoft Case: Antitrust, High Technology, and Consumer Welfare (University of Chicago Press 2007) and numerous articles on antitrust Law, particularly in the areas of antitrust injury and standing, the state action doctrine, the Microsoft litigation, and the influence of the Chicago School on the evolution of substantive antitrust law. Most recently, his work has focused on the definition, pleading, and proof of agreement in litigation Section 1 of the Sherman Act.
Education
LL.M., University of Chicago
J.D., University of New Mexico (summa cum laude)
B.A., Tulane University (cum laude)
Teaching & Scholarship
Antitrust, Civil Procedure, Administrative Law, Telecommunications, Local Government, Intellectual Property, Constitutional Law, Energy Policy
Professional Activities
University of Florida: Joined College of Law in 2001 as Marshall M. Criser Eminent Scholar in Electronic Communications and Administrative Law.
Prior Educational Positions
Mississippi College School of Law (1981-2000). Named J. Will Young Professor of Law in 1991. Boston University School of Law (1979-81); Visiting Professor, 1987-88.
Private Practice: Antitrust Division, U.S. Department of Justice, Trial Attorney (1975-78).
Organizations: State Bar of New Mexico, American Bar Association (Antitrust Section & Administrative Law and Regulatory Practice Section), Order of the Coif, American Inn of Court, American Law and Economics Association.
Courses
Analysis of a civil lawsuit from commencement through trial, including consideration of jurisdiction, venue, pleading, motions, discovery, and joinder of parties and of claims; right to trial by jury, selection and instruction of jury, respective roles of judge, jury, and lawyer; trial and post-trial motions; judgments.
Analysis of the administrative process, with an emphasis on the activities of federal regulatory agencies. Topics include legislative delegations of authority to agencies, executive branch controls, rulemaking and adjudicatory procedures, due process rights, and the scope of judicial review of administrative decision making.
An analysis of the legal, economic and policy issues engendered by efforts to prescribe standards of business conduct and preserve competitive market structures under the Sherman Act, Clayton Act, Federal Trade Commission Act and related legislation.
The seminar will focus on economic, legal, and policy issues raised by the regulation of communications technologies, including telephony, cable, broadcast, and the Internet. Topics will include the breakup of the Bell System, allocation of the spectrum, requirements of interconnection, pricing of services, and (to a lesser extent) content regulation. The grade will be based on a research paper (and presentation) and class participation.
Publications
Books
Kintner's Federal Antitrust Law, 2015 Supplements (LexisNexis, 2015) (with Joseph Bauer & John Lopatka)
Kintner Federal Antitrust Law (with Joseph Bauer and John Lopatka) (LexisNexis, 3d ed., 2013)
Kintner's Federal Antitrust Law (11 vols.) Annual Supplements (with Joseph Bauer and John Lopatka) (LexisNexis, 2010-12)
The Microsoft Case: Antitrust, High Technology, and Consumer Welfare (University of Chicago Press 2007; paperback and Kindle editions 2009) (with John Lopatka)
Kitner's Federal Antitrust Law: Practices Prohibited by the Sherman Act (LexisNexis 2nd ED. 2002) (with Joseph Bauer)
Proving Antitrust Damages: Legal and Economic Issues (ABA Antitrust Section publication)
Representative Law Reviews / Journals / Chapters
The Microsoft Case as a Political Trial, in POLITICAL TRIALS (Jens Meierhenrich & Devin Pendas, eds., Cambridge Univ. Press, (forthcoming 2015) (with John Lopaka)
Signaling and Agreement Under Section 1 of the Sherman Act, 2015 CONCURRENCES COMPETITION L.J. No. 3 [Link]
"Optimal Antitrust Penalties: A Synthesis," in Oxford Handbook of International Antitrust Economics (Daniel Sokol and Roger Blair, eds.) (2013)
"Antitrust, Innovation, and Product Design in Platform Markets: Microsoft and Intel," (with Seldon J. Childers), in 78 Antitrust L.J. 363 (2012) [SSRN]
"Standard Oil and U.S. Steel: Predation and Collusion in the Law of Monopolization and Mergers," 85 S. Cal. L. Rev. 657 (2012) [SSRN]
"A Neo-Chicago Approach to Concerted Action," 78 Antitrust L.J. 173 (2012) [SSRN]
"Indirect Purchaser Suits After the Class Action Fairness Act: Reconciling Multilayer Interests in Antitrust Litigation," in Collective Actions: Enhancing Access to Justice and Reconciling Multilayer Interests 275 (Stefan Wrbka, ed.) (Cambridge U. Press, 2012) [SSRN]
"Facilitating Practices and Concerted Action Under Section 1 of the Sherman Act," in Antitrust Law and Economics (Keith Hylton, ed., Edward Elgar, 2010) [SSRN]
"Microsoft and the Limits of Antitrust," 6 J. Competition L.  & Econ. 33 (2010) [SSRN]
"Twombly and Communication: The Emerging Definition of Agreement Under the New Pleading Standards," 5 J. Competition L.  & Econ. 439 (2009) [SSRN]
"The Gary Dinners and the Meaning of Concerted Action," 62 SMU L. Rev. 597 (2009) [SSRN]
"Measuring Compliance with Compulsory Licensing Remedies in the American Microsoft Case," 76 Antitrust L.J. 239 (2009) (with Seldon J. Childers) [SSRN]
"Mandatory Contracting Remedies in the American and European Microsoft Cases," 75 Antitrust L.J. 787 (2008)
"Bargaining in the Shadow of the European Microsoft Decision: The Microsoft-Samba Protocol License," 102 Nw. L. Rev. Colloquy 332 (2008) (with Seldon J. Childers) [SSRN]
"Software Development as an Antitrust Remedy: Lessons from the Enforcement of the Microsoft Communications Protocol Licensing Requirement," 14 Mich. Telecomm. & Tech. L. Rev. (2008) (with Seldon J. Childers) [SSRN]
"Communication And Concerted Action," 37 Loyola U. Chi. L.J.(2007) [SSRN]
"The Ideological Origins and Evolution of Antitrust Law," New Directions in Antitrust (ABA Antitrust Section, Wayne Dale Collins, Ed., 2007) [SSRN]
"Economic Authority and the Limits of Expertise in Antitrust Cases," 90 Cornell L. Rev. 617 (2005) (with John Lopatka) [SSRN]
"Bargaining and Monopolization: In Search of the 'Boundary of Section 2 Liability' between Aspen and Trinko," in 73 Antitrust L.J.(2005) (with John Lopatka) [SSRN]
"Class Certification in the Microsoft Indirect Purchaser Litigation ," 1 J. Competition L. & Econ. 303 (2005) [SSRN]
"State Action and the Meaning of Agreement Under the Sherman Act: An Approach to Hybrid Restraints," 20 Yale J. on Reg. 269 (2003) (with John Lopatka) [SSRN]
"'Obvious' Consumer Harm in Antitrust Policy: The Chicago School, the Post-Chicago School, and the Courts," Post-Chicago Developments in Antitrust Law (Antonio Cucinotta, et al., eds., Edward Elgar Pub. Co. 2002) (with John Lopatka) [SSRN]
"Devising a Microsoft Remedy that Serves Consumers," 9 Geo. Mason L. Rev. 691 (2001) (with John Lopatka) [SSRN]
"Monopolization, Innovation, and Consumer Welfare," 69 Geo. Wash. L. Rev. 367 (2001) (with John Lopatka) [SSRN]
"Internet Regulation and Consumer Welfare: Innovation, Speculation, and Cable Bundling," 52 Hastings L.J. 891 (2001) (with John Lopatka) [SSRN]