Ben Overton In Memoriam
UF Law adjunct and former Florida Supreme Court Justice Ben Overton remembered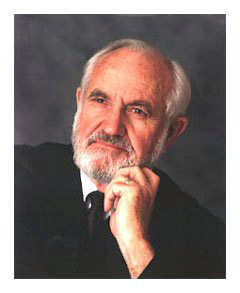 Former Florida Supreme Court Justice, UF Law alum and Adjunct Professor Ben F. Overton died Saturday, Dec. 29, in Gainesville, Fla., of complications from heart surgery. He was 86 and was Florida's 62nd justice since statehood.
"Justice Overton was one of the most influential members of the court after the sweeping reforms of the 1970s," said Chief Justice Ricky Polston. "He will be remembered not only for his far-seeing opinions, but also for his efforts in the 1970s to make the state courts more accessible by allowing cameras into our courtrooms."
In the mid-1970s, Overton was one of several newly appointed justices who elevated the reputation of the court after it earlier had become involved in scandal. He was the first justice chosen through a merit selection process created by Gov. Reubin Askew that soon was added to the Florida Constitution by vote of the people.
From his appointment on March 27, 1974, until his retirement on Jan. 4, 1999, Overton authored more than 1400 decisions and was a central figure in a vast series of reforms that made his court one of the most respected and accessible in the nation. He served as chief justice from 1976-1978 and chaired the Article V Review Commission in 1984. Following his retirement, Overton was an active adjunct professor of law at the University of Florida's Levin College of Law.
"He is the profile of what you would expect a judge to be," UF Law Dean Emeritus and Director of UF Law's Center for Governmental Responsibility Jon Mills told The Gainesville Sun.
"He was smart, fair. He wrote some terrifically important opinions in education, privacy and a broad number of constitutional areas," Mills said. "He was an independent thinker. When he was on the bench, he could look pretty fearful."
A native of Green Bay, Wis., Overton became a double Gator, earning both his bachelor's and law degrees from the University of Florida. He also earned an LL.M in jurisprudence from the University of Virginia in 1984. He was honored as a Distinguished Alumnus of the University of Florida in 2008.
Overton not only helped make Florida one of the first states to allow television coverage of court cases, but also was instrumental in making the state Supreme Court one of the first in the world to have a website. Overton later played a pivotal role in seeing that every Florida Supreme Court case was televised, webcast, and stored in an on-line archive.
Overton served nearly ten years on the Pinellas County circuit court and, for several years, as its chief judge. He was well known for his work in legal education and dispute resolution and was chairman of the Dispute Resolution Section of the American Bar Association.
"In addition to Justice Overton's leadership in the judiciary, he was a tremendous supporter of the law school and its students," said UF Law Dean Robert Jerry. "Beginning in 2001, he taught Florida constitutional law and a Florida Supreme Court seminar as an adjunct faculty member, and his interest in helping prepare our students for the legal profession had no limits. He also served as a member of the Law Center Association Board of Trustees and was a charter member of the Association's Heritage of Leadership Committee, which selects distinguished alumni for posthumous recognition by the Levin College of Law."
Predeceased by his wife Marilyn, Overton is survived by his children, Judge William H. Overton and wife, Dolores; Robert M. Overton; and Catherine L. Overton; two grandchildren, William E. and wife Alison; Brian H. and wife Jackie; and one great grandchild, Adelynn.