William Reece Smith Jr. in Memoriam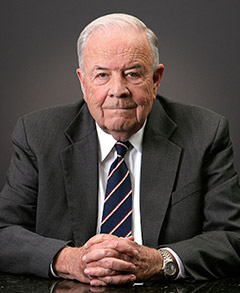 William Reece Smith Jr., a powerful force in the legal world and one of five University of Florida Law graduates to serve as president of the American Bar Association, died Friday, Jan. 11, 2013. He was 87.
Smith – whose legal career covered six decades – also served as president of The Florida Bar and was the first American to be elected president of the International Bar Association, and was attorney for the City of Tampa and president of the Greater Tampa Chamber of Commerce.
"That Reece Smith is a graduate of UF Law is something in which all of us take great pride," UF Law Dean Robert Jerry said. "His impeccable leadership skills, community service record and enduring quest for social justice set an example for all of us to follow."
Smith decided to attend law school at UF Law under the G.I. Bill in 1946 after a stint in the Navy. While in law school he served as president of the Student Bar Association and was a member of Florida Blue Key. After earning his JD, Smith was selected as a Rhodes Scholar and would become a member of the UF Law faculty upon his return from studying at Oxford.
"His passion for professionalism was profound, and he certainly modeled that throughout his legal career," Jerry said. "The lawyers whom he mentored, and there were a great many through the years, know this very well."
In 1953, Smith then went to work for the Carlton Fields law firm in Tampa where he would join the American Bar Association the following year. Smith visited his office daily until just recently.
A socially conscious lawyer, Smith always strived to help those in less fortunate positions. During his term as ABA president, Smith successfully led opposition to a proposal to eliminate the Legal Services Corporation, which provides legal services to the poor across the country. He has also been an influential advocate of pro bono work over the years. While ABA president, Smith established the ABA Pro Bono Center, which helped increase voluntary projects from 50 to 1000 over a 10-year period. He was also played a key role in establishing Florida Legal Services, Inc. – a non-profit that provides civil legal assistance to those who would not otherwise be able to afford legal representation.
"If not for William Reece Smith, legal services to the poor would probably not exist in this country," Dick Woltman, president and CEO of Bay Area Legal Services, told The Tampa Tribune. "Reese was one of the great supporters of legal services for the poor both nationally and locally."
Shortly before his death, he was honored with the Florida Supreme Court's Lifetime Achievement Award. A biography of his life and career entitled, "A Consummate Lawyer," by Stetson Law Professor Emeritus Michael Swygert, was published in 2010.
Smith was born Sept. 19, 1925, in Athens, Tenn., and grew up in Plant City, Fla. He is survived by his son, William Reece Smith III; daughter-in-law, Rachel-Anne Winter Smith; his grandson, William Reece Smith IV, (Liam); his cousins, Mr. and Mrs. Edward Lee Smith of Marietta, Ga. and their children and grandchildren; a number of cousins, who are descendants of his mother's oldest brother, Thomas Edwin Moody of Plant City; and his dear friend and former wife, Marlene Medina Smith. The family expresses its gratitude to the caregivers at Senior Solutions, who lovingly cared for Smith in his final days. Besides his family, Smith is also survived by millions of people in this country and across the world who have benefitted from the pro bono services they received as a result of his efforts.
"When did you become a Gator Lawyer?" Video Interview