Maria Ceballos-Zagales (JD 20) Selected as an Equal Justice Works Fellow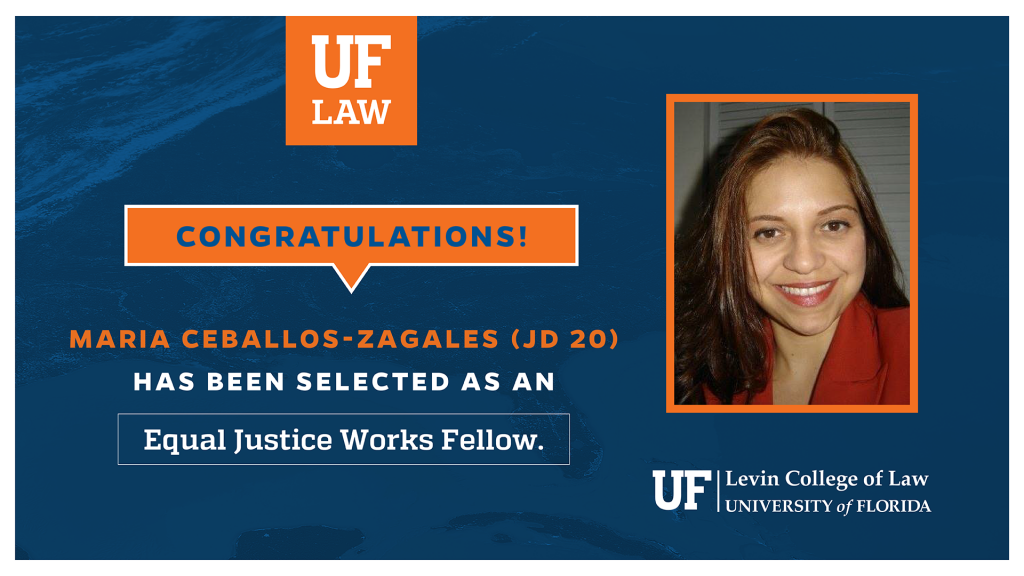 Maria Ceballos-Zagales, UF Law Class of 2020, has been selected as an Equal Justice Works Fellow. Maria is one of 78 Equal Justice Works Fellows chosen from nearly 550 applications. Through a generous sponsorship from Raytheon and Kirkland & Ellis LLP, Maria will establish a mobile legal clinic to provide legal services and educational outreach to vulnerable military veterans throughout Florida. Beginning in September of this year, Bay Area Legal Services ("BALS") in Tampa, Florida, will host Maria for the two-year fellowship. The main client referral pipeline will be BALS' statewide Florida Veterans Legal Helpline.
Near where they live, veterans will receive legal services to help obtain VA benefits, discharge upgrades, resolution of landlord-tenant and credit disputes, and basic estate and advance healthcare planning. Maria will also deliver Know Your Rights presentations to at-risk veterans throughout Florida. Maria will help train and collaborate with community outreach organizations, veterans' support groups, legal aid organizations and university clinics to expand veterans' legal services. The goal is to increase veterans' access to physical and mental health services, as well as educational and other VA benefits. The legal services will empower at-risk veterans to obtain employment, stable housing, and financial security while reducing poverty, homelessness, incarceration, and suicide. Maria's long-term vision is to create a national model for mobile legal clinics for veterans.