130 Law Schools Discuss Employment Outcome Reporting at Event Convened by UF Law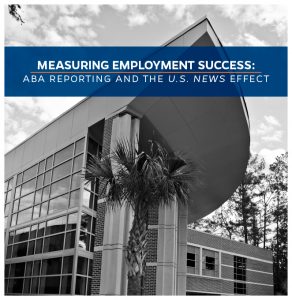 Nearly 50 deans from law schools across the country convened at University of Florida Levin College Law on December 4 to discuss a recent proposal by the American Bar Association to change employment outcome reporting.
The deans participated in-person on UF Law's campus in Gainesville and from one of six remote locations nationwide. They were joined by their career development teams, and career development professionals from over 80 other law schools also participated.
The day began with a panel discussion in Gainesville, "Setting the Stage: The Multiple Uses and Purposes of Employment Data." The panel was moderated by University of Georgia Law Dean Peter "Bo" Rutledge and offered three perspectives on the uses and purposes of employment data and the impact of employment reporting on law schools and the legal profession. Panelists included Stetson Law Dean Chris Pietruszkiewicz, National Association for Law Placement Executive Director Jim Leipold and Brooklyn Law Dean of Career and Professional Development Karen Eisen (JD 85).
The conference, which included joint sessions and breakout sessions, was a joint effort spearheaded by ­UF Law Dean Laura A. Rosenbury and Dean Rutledge and featured sessions with Barry Currier, ABA Managing Director of Accreditation and Legal Education, and Leipold, of NALP.
"This event provided an opportunity for deans and career services professionals to discuss these issues in-depth," said Dean Rosenbury. "We are all committed to transparent reporting of employment outcomes, and we rely on ABA regulations to provide this critical consumer information in a consistent manner. This data is also used by U.S. News and other organizations to rank law schools, however, so it is important to analyze the consequences of any proposed change."
"I want to thank the deans of Suffolk University Law School in Boston, Benjamin N. Cardozo School of Law in New York, Villanova University Charles Widger School of Law in Philadelphia, The John Marshall Law School in Chicago, University of New Mexico School of Law in Albuquerque, and Pepperdine University School of Law in Malibu for providing locations for those unable to travel to Gainesville during the end of a busy semester," said Dean Rosenbury. "The conversation was lively and productive."­
The event was generously funded by the Marshall M. Criser Distinguished Lecture Series Endowment.