1Ls gain valuable career advice at Career Development Boot Camp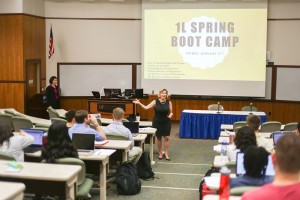 By Tim Groves (2L)
What not to do when serving as an intern for a federal judge:
Text during trials
Walk out of an emotional sentencing because word has spread that cake is available elsewhere
U.S. District Judge Marcia Howard (JD 90) has seen these no-no's first-hand, she told the University of Florida Law 1L class. Howard, of the Middle District of Florida, was helping students prepare for the daunting task of applying for internships, part of a day-long Spring 2016 Boot Camp sponsored by the UF Law Center for Career Services. The boot camp put first-year students on the path toward real-life legal practice.
During her presentation, Howard emphasized just how important this summer was to the first-year students as they begin their legal career.
"If you do a good job and impress the judge or whoever, you get a good recommendation or a job for next summer," Howard said.
Those potential employers even include the judges themselves. According to Howard, most of them hire from within, initially looking at candidates who had previously interned in chambers or who had interned for another judge who can recommend them. If candidates worked hard during their time as interns their chances improve of being hired back for a paid position.
Howard presented twice to packed crowds in the Chesterfield Smith Ceremonial Classroom as a part of the daylong event for the newest members of UF Law. The day opened up with two presentations from Marc Wites (JD 94), of Wites & Kapetan, P.A.
Wites and Howard stressed that the most important thing for first-year law students is their resumes. Resumes and cover letters are the only thing judges and other potential employers have to evaluate candidates. With no prior legal experience, resume need to be flawless. Howard suggested having five different people read it to check typos or mistakes.
Other advice included sending cover letters to the correct person with a correctly spelled name; not showing up to interviews 30 minutes early, which forces someone to entertain you in chambers; and being prepared to accept an offer from a judge should you receive one.
Following the presentations by Wites and Howard, Michael Robinson, senior counsel with the appellate staff of the Department of Justice's Civil Division, spoke with the first-year students on the writing skills that attorneys need to master.
The Legal Marketing Association, a nonprofit organization that serves the needs and maintains the professional standards of men and women involved in marketing, business development, client service, and communications within the legal profession, gave a presentation on the business side of being a lawyer.
Amy Borman, general counsel for the 15th Judicial Circuit, was scheduled to follow up on Jan. 21 with ideas for students on how to highlight their personal skills in application materials to stand out from the crowd.
The presentations marked the beginning of spring on campus interviews. Scores of students and employers are matched each semester during on campus interviewing, one of the region's largest on-campus legal recruiting programs.
The office of Career Development assigns experienced, professional counselors t0 guide students through the career development process including marketing themselves, connecting with employers, interviewing and searching for jobs.