Alumna joins circuit court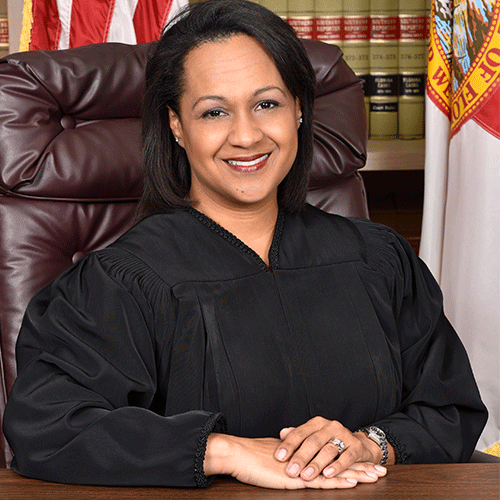 Fabienne Fahnestock (JD 98) spent 15 years as a litigator for Gunster, focusing on business and employment law, health care disputes, probate and appellate issues. But roughly six months ago she settled into a new role as a trial court judge in the 17th Judicial Circuit.
"It was just one of those aspirations that you always think will be an aspiration," said Judge Fahnestock of her new role, likening it to childhood ambitions of wanting to be an astronaut or a basketball player.
But encouragement from friends and family who noted her previous experience and good temperament pushed her to apply for the role she has now been appointed to by Gov. Rick Scott. Judge Fahnestock replaced Broward Circuit Judge Thomas Lynch who retired in February.
"It's an entirely different life," she said.
Her advice to 3Ls on the cusp of entering the job market: take chances. "Don't be so risk averse that you undervalue yourself and you miss out on incredible opportunities," she said. Her advice to overwhelmed 1Ls: "breathe – everything will be fine."
"Maybe you get the job of your dreams, maybe you don't, but at the end of the day you have a law degree and there's so much that you can do with that," she said.
Judge Fahnestock now presides over a family law docket – roughly 700 cases ranging from divorces and child support to domestic violence. She calls the switch from litigator to judge challenging but drew on previous family law experience for guidance. While at UF Law she clerked for a family law judge and did similar work at a local law firm. She has also found mentors in other judges.
"The stakes are high," she said of being a judge. "We're talking about families." She's involved in making decisions on where children will attend school, whom they live with and where they spend vacation and holidays. "These are decisions that have real consequences, so it is a huge responsibility," she said.
Judge Fahnestock has found the transition to being an impartial observer easier than expected. "When you hear both sides of the story, for the most part, it is pretty clear which way I should rule," she said.
When Judge Fahnestock became a judge she knew her role precluded her from fundraising for community causes such as early childhood organizations, and was concerned she might fall out of touch with her community.
"As a judge I'm actually doing more," she said. "I'm able to go out there and visit with folks and people recognize me and they see me, and I inspire them to do more, to be more.  It's really given me the ability to reach so many more people than I ever could have reached in private practice."
Judge Fahnestock chose UF Law because of the Gator Nation and the support of the faculty. "I almost feel like they had a personal investment in their students and so when I walked out of there, I felt prepared that even if I didn't know the answer, I knew where to find the answer," she said.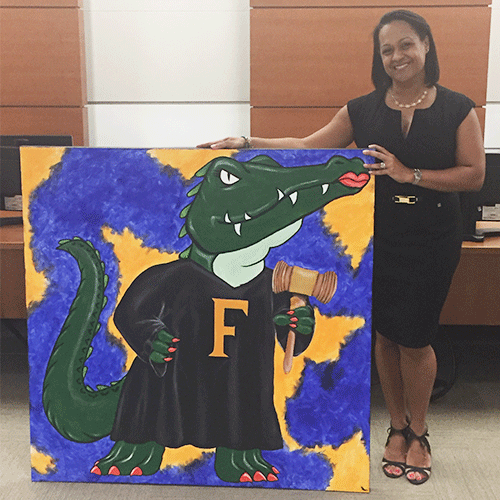 Judge Fahnestock can still remember the challenges of her 1L year – learning how to think and write differently. Her favorite part of law school was her third year. "I took trial advocacy with Professor Gerald Bennett and he taught me so much," she said. "I was on the moot court team and we got to travel and we got to compete. I really got hands-on training; I was part of the civil clinic."
According to Judge Fahnestock she can now attest to the reality of the Gator Nation. During her robing ceremony in July, her husband unveiled before a crowd of about 300 people a painting he commissioned for her of a female alligator clutching a gavel and wearing a black robe.
"We held it up and – I'm not exaggerating – probably two-thirds of the room all stood up and started doing the Gator chomp."