Culverhouse and Hosseini Activate $4 Million Fundraising Initiative at UF Law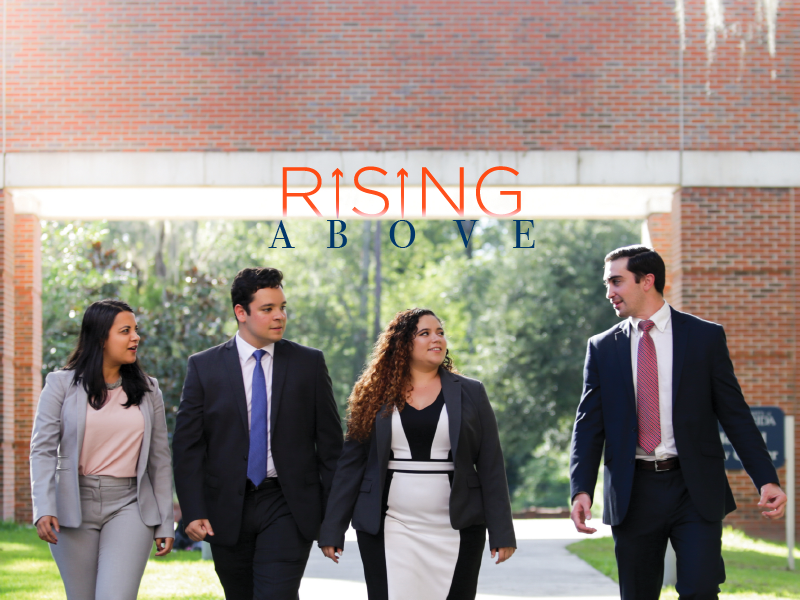 University of Florida Levin College of Law is on a quest to become a top 10 public law school.  A new $4 million fundraising initiative sparked by UF Law alumnus Hugh Culverhouse, UF Board of Trustees Chairman Mori Hosseini, and UF Provost Joe Glover will move UF Law closer to that goal.
Culverhouse (JD 74), a philanthropist and business executive who spearheaded a giving challenge at UF Law in 2017 that resulted in $4.5 million in student scholarship support, has joined with fellow philanthropist and real estate developer Hosseini to each contribute $500,000 to UF Law.  UF Provost Joe Glover has pledged to match their $1 million contribution.
The collective $2 million will directly support student scholarships at UF Law, but only if at least 2,000 donors contribute an additional $2 million to UF Law by August 13, 2018.
"Thanks to Hugh's leadership last year, we raised an incredible amount of scholarship support for our students," said Laura A. Rosenbury, Dean and Levin, Mabie and Levin Professor of Law.  "Sustained momentum requires sustained commitment.  I'm truly thankful for Hugh's continued generosity, and for the steadfast support of Mori Hosseini and Provost Joe Glover.  This new opportunity pushes us even closer to our goal of becoming a top 10 public law school."
In the spring of 2017, UF Law moved seven points from No. 48 to No. 41 and broke into the list of top 20 public law schools in the U.S. News and World Report law school rankings. In the fall of 2017, U.S. News ranked University of Florida as a top 10 public research institution.  UF Law now seeks to join the university among the top 10.
"UF Law's momentum is invigorating," Hosseini said.  "The law school has the support of the Board of Trustees to not only reach this goal, but also to thrive and be recognized among the best law schools in the nation."
In just two years, applications to UF Law have increased 112%, resulting in a four-point increase in the median LSAT of the entering class and the enrollment of two of the most diverse classes in UF Law history.
"There is no question that UF Law is on the rise," Culverhouse said.  "The only question is how far we will go.  I once again urge each and every alum and friend of UF Law to join together in support of our law school and the future leaders of our great profession."
Last year's giving challenge mobilized nearly 1,500 donors to contribute $1.5 million in just three months, activating a combined $3 million in matches from Culverhouse and Provost Glover.  It was the largest and fastest match challenge in University of Florida history.
"With last year's successes in fundraising and admissions, we are on a path to become a top 10 public law school.  But we must do more," Dean Rosenbury said.  "With the support of our alumni and friends, we will continue to recruit the most promising and diverse students.  We will continue to place our students in superior jobs.  And we will continue to strengthen our cutting-edge programs and faculty.  We are energized by this new challenge, and we will rise."