Florida Bar's John Harkness (JD 69) Retires As Nation's Longest Serving Executive Director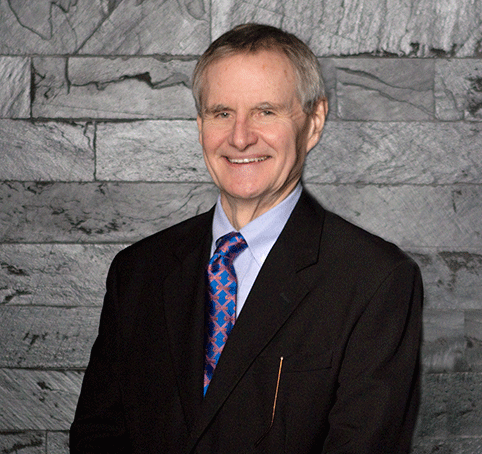 Those who have worked with The Florida Bar Executive Director John "Jack" F. Harkness Jr. during his 37-year tenure describe him uniquely – as a rock star, a unicorn and a calming influence during tough times. They also call him a proud Double Gator.
He received his Bachelor of Science in Business Administration from UF in 1966 and his Juris Doctorate from UF Law in 1969. From there he went on to work in both the private and public sectors before taking the helm of The Florida Bar. After 37 years, he will now retire as the nation's longest-serving executive director.
In 1980, when Harkness began his tenure, there were 27,713 members of the bar, 122 staff members and an annual budget of $7.1 million. That has since swelled to 105,000 members, 320 staff, five locations and an annual budget of more than $44 million.
"He has really helped grow and shape The Florida Bar into what it is today," said Immediate Past Florida Bar President William J. Schifino Jr. (JD 85). Schifino likens the executive director position to a company CEO – driving daily operations – while the president is more like a board chairman – driving policy decisions.
Harkness' efforts have not gone unnoticed. This year he is the recipient of The Florida Bar Foundation's highest distinction, the medal of honor.
"Jack was someone who helped me understand the depth and breadth of the Gator Nation," said Florida Bar Past President Mayanne Downs (BA 79, JD 87), who serves as president and managing director of GrayRobinson.
During her time as bar president, Downs said she and Harkness worked closely together. "Jack is a person of utter calm and gentle support and unfailing optimism," she said. Downs also highlights Harkness' huge heart.
"That heart makes the people around him safe and it means our justice is tempered by mercy and that makes Jack a very progressive and deeply compassionate manager of the bar's resources," she said. According to Downs, Harkness was one of the first individuals she knew of to demand equality in employment benefits for LGBT individuals.
"When you think of moral character, when you think of someone who at every stage, every step of the way does the right thing, the person that comes to mind is always Jack," Schifino said.
Highlights of Harkness' career include: leading Florida in becoming the first state to implement the Interest on Trust Accounts Program, which used interest to pay for indigent legal services; establishing an ethics hotline for lawyers to obtain advice; adding two non-lawyer positions to the Board of Governors and increasing public transparency and accessibility to the attorney discipline process.
"When you think of Jack, you think of someone who really has the best interest of not only our membership, but the citizens of the state in mind," Schifino said.
UF Law Dean Laura A. Rosenbury hopes all alumni strive to be like Harkness. "Harkness exemplifies the strengths of so many of our alumni: legal expertise and sound judgment; a belief in the future of the legal profession; and compassion for his fellow lawyers and all the future lawyers who will aspire to embrace his values."
Harkness can still recall his days at UF Law. He remembers taking classes at the school's old location near NW 13th Street, now home to the Warrington College of Business. He also recalls spending long hours studying in the library before modern technology made studying at home possible and an unwritten rule that students wore short-sleeve dress shirts with a tie to class.
"It was a great experience," he said of attending UF Law. "I thoroughly enjoyed it."
His advice to new lawyers: make yourself known and keep in routine communication with your clients.
"Cases take a lot longer to resolve than clients think they should," Harkness said. "I don't think there's any answer to that, it's just a process you have to go through. You have to keep reassuring them that their case is moving along, that you know about their case, you're interested in their case."
Other highlights of Harkness's career include increasing public accessibility to information through the launch of The Florida Bar website in the early 1990s; creating mandatory continuing legal education; beginning to offer free legal research to bar members; establishing a career center to pair employers with potential candidates; and, in more recent years, creating uniformity among all 67 Florida counties, with each implementing electronic filing systems.
"We had to make sure the same checks and balances we had before when you would file something in the clerk's office on a piece of paper were done the same way when you were doing it electronically," Harkness said. "And making sure it's an authentic filing."
Florida is one of the leading states in the nation in the electronic filing endeavor, an effort that greatly increased the public's access to records.
Harkness was born in Virginia, raised in Miami. After law school he worked for the Florida legislature before moving into private practice in South Florida, working on insurance defense and probate cases. He then moved back to Tallahassee, serving as State Courts Administrator from 1974 to 1980 before beginning at The Florida Bar.
Past Florida Bar President Gregory Coleman served on the search committee to replace Harkness. "We kept referring to him as a unicorn and that is because people like Jack just simply don't exist, they really don't," Coleman said. "He is one of the most unique, special people I've ever come across in my life."
Harkness said his interest in the administrative aspects of the law, the people he met along the way, and the constantly-evolving workflow is why he stayed in the position so long. "It was never boring at all," he said. "Something was always changing."
According to Coleman, Harkness goes about his work with some guiding principles: unwavering support for independence of the judiciary, access to justice for all, and ensuring lawyers conduct themselves in accordance with a high standard.
Those guiding principals have facilitated several accolades over the years. In 2014, The Florida Bar's General Practice, Solo and Small Firm section awarded Harkness its tradition of excellence award, reserved for those committed to improving lawyers' standing in the community while enhancing their overall reputation. In 2015, the complex that houses the bar's headquarters was renamed The Florida Bar John F. Harkness Jr. Complex. And now he is the recipient of The Florida Bar medal of honor.
Florida Bar Past President Gwynne A. Young (JD 74) and 2016 medal of honor recipient Kathleen McLeroy nominated Harkness for the award.
"While it is not possible to list the accomplishments of a man who has nurtured and managed the legal profession in Florida for 37 years, suffice it to say that Jack has had an active role in every initiative and undertaking of The Florida Bar, from Constitutional Revision Commissions to commissions and task forces designed to advance the bar's service to the public, to educate the public about judicial merit retention and improve access to justice through the bar's efforts to ensure adequate funding for the courts and in support of the work of this foundation and other legal aid organizations," Young and McLeroy wrote in their nomination letter. "Jack has earned the respect of not only his fellow lawyers but also the members of the judiciary and the executive and legislative branches of Florida's government."
Harkness is now helping successor Joshua Doyle transition into the role of executive director. But Harkness' presence will still be felt – now in an ongoing consulting role he refers to as a "part-time senior advisor position," taking on special projects. One of his roles will be to work with the Constitutional Revision Commission, tasked with proposing amendments to the Florida Constitution.
"Jack believes he is very blessed and fortunate to have the opportunity he has. The beauty of Jack is those who have had the chance to work with him, we feel we are the blessed and fortunate ones to have had him in our lives," Downs said.