George H. Starke, Jr. Receives Honorary Degree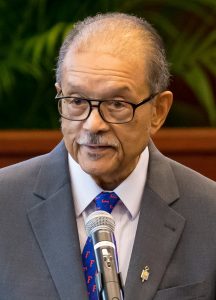 The University of Florida recognized George H. Starke, Jr. with an honorary degree during the Spring 2019 Commencement Ceremony. View the video recording. 
Four years after segregation was declared unconstitutional in Brown vs. Board of Education, Mr. George H. Starke, Jr. enrolled in the University of Florida in September 1958 as the first African-American student admitted to the 105 year-old institution. Mr. Starke was 27 years old at the time and pursuing his dream of a law degree.  Ultimately, the physical and emotional pressures of being the only African-American student at UF took their toll, and Mr. Starke withdrew after just three semesters to take a job on Wall Street.
Before making history at UF Law, Mr. Starke earned an A.B. degree in Business Administration from Morehouse College in Atlanta, Georgia. For the next five decades, he worked as a mortgage broker, investment banker, and energy consultant in New York and Washington, D.C.
In 1962, Mr. Starke was the first African-American employed as an Investment Advisory Aide with Moody's Investment Advisory Services in New York City.  His business acumen facilitated a successful career in venture capital and corporate and municipal finance including serving as President of both Investment Services Corporation and General Power Company as well as roles at Oppenheimer & Company, The Greyhound Corporation, Wall Street Investment Corporation, and General Trading Corporation.
Mr. Starke was born into a family of pioneers. His father, Dr. George Starke, was the first African-American to gain membership in the Florida Medical Association and opened his own practice in Sanford, Florida. His mother, Mattie Starke, was a beloved high school teacher and librarian. Mr. Starke's cousin, Daphne Duval Williams, also made history as Florida's first female African-American student when she enrolled in UF's College of Education in January 1959.
In 2009, Mr. Starke was given UF's Distinguished Alumnus Award. In 1998 and again in 2018, he was honored by UF Law's Center for the Study of Race and Race Relations in recognition of the important role he played in the history of Florida higher education.
Mr. Starke has served on the UF Alumni Association Board of Directors and the University of Florida Foundation's D.C. Council.  He is a lifetime member of the UFAA, a member of Kappa Alpha Psi Fraternity, and an honorary member of Florida Blue Key.