Glicksberg a supportive colleague, devoted to profession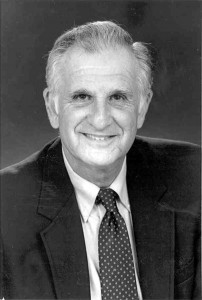 UF Law Professor Emeritus Mandell "Mendy" Glicksberg (JD 51) passed away May 5. He was 86.
UF Law faculty remember Glicksberg for his warm spirit, "old school" charm, professionalism and integrity.
"He was one of the kindest, giving, supportive colleagues ever," UF Law Professor Nancy Dowd said. He always had "a great glint in the eye and a smile."
He taught the nuts and bolts of the legal field, but also what it means to be a lawyer truly devoted to the profession, UF Law Professor Stuart Cohn said.
"He was a great colleague, a mentor and an example," Cohn said.
Glicksberg joined the UF Law faculty where he taught constitutional law, property, sports law and legal ethics. He was awarded the Instructor Excellence Award for his dedication to his students and professionalism in the classroom.
As an undergraduate, Glicksberg studied psychology at the University of Florida and played clarinet and bass drum in the Gator Marching Band.
At UF Law, he was editor of the Florida Law Review, a member of Florida Blue Key and a representative of UF Honor Court. He graduated with high honors in 1951 and moved with his wife, Joyce Kerzin, to his hometown of Miami, where he worked in private practice until he became a U.S. Air Force 1st lieutenant in the Judge Advocate General program. In 1953, he left active duty and served the Air Force Reserve for 20 years before retiring as a lieutenant colonel.
Glicksberg was a member of The Florida Bar Association, president of the University Athletic Association board of directors, member of the SEC Executive Committee and inducted into the UF Athletic Hall of Fame. He retired in 1997 after 44 years of teaching, but continued to frequent the law school.
"This was his institution for practically his entire adult life," Cohn said, "He was proud of it and we can be proud that he was one of us."
Mandell is survived by his wife of 64 years, Joyce, and three children, Jodye Clark of Tallahassee, Susan Hilton of Tallahassee, and David Glicksberg of Tampa. He is also survived by his five grandchildren, sister-in-law, niece and nephew.
A private service, arranged by Forest Meadows Funeral Home, will celebrate his life and the mark he has left on his family and friends. The family asks that instead of flowers, donations be made to the University of Florida Levin College of Law, located at 2500 SW 2 Ave., Gainesville, FL 32611; Haven Hospice, located at 4200 NW 90th Blvd., Gainesville, FL 32606; or the Southern Poverty Law Center, located at 400 Washington Ave., Montgomery, AL 36104.