Graduate Earns Spot in Department of Justice Honors Program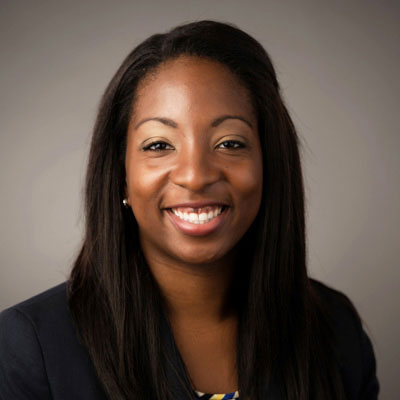 Fall is usually a time for new beginnings, and for Soma Nwokolo (JD 15) that means relocating from Florida to Washington, D.C., to begin her dream job as a trial attorney for the Department of Justice's Antitrust Division.
"I became a lawyer because I knew I wanted to do justice," Nwokolo said. To her, doing justice is about righting wrongs. "I've always wanted to be a federal prosecutor; I've been watching 'Law and Order: SVU' since I was in middle school. I felt that by getting my law degree, I would be able to make a difference in areas I didn't think I could make a difference in otherwise."
The new position comes as Nwokolo wraps up a two-year clerkship in Orlando with United States District Judge Roy B. Dalton, Jr. (JD 76). During her time with Judge Dalton, Nwokolo was exposed to many civil claims, including Fourth Amendment violations, breach of contract, negligence and even a very complex antitrust case.
Nwokolo is entering DOJ through its Honors Program, which is geared towards employing young attorneys.
"The U.S. Department of Justice is the largest and one of the most prestigious law firms in the world," said Robert Rhee, UF Law's John H. and Mary Lou Dasburg Professor of Law. "The Honors Program, the DOJ's entry level hiring program, is very competitive and it is wonderful to see UF students compete for these positions. Selection represents fine academic accomplishment and an opportunity to serve the public in a highly sophisticated legal practice."
Rhee helped Nwokolo network within DOJ.
At the department, Nwokolo will prosecute criminal antitrust violations, including collusion and price fixing. A lot of her workload will involve investigatory work, conducting interviews, sifting through evidence, working with federal agents and traveling. The DOJ unit she has been assigned to mostly works on cases arising out of the West Coast.
"Basically the aim is promote free enterprise," Nwokolo said. "So anytime you take a consumer's choices away from them, or hinder free enterprise, that can be a violation of antitrust laws depending on the action you take to do that."
Nwokolo hopes to make a career as a government attorney and ultimately become a federal judge.
"For me what is important is giving a voice for people who don't have one or just being an advocate for an area where the need is great," Nwokolo said.