Iron Woman: Alumna Draws Similarities between Training for Trial and Triathlons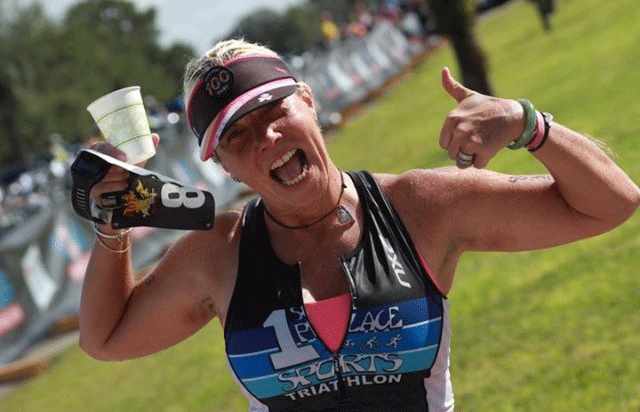 UF Law alumna Susan Haag (JD 92) is an experienced prosecutor and the only woman in the world to have completed 100 iron distance triathlon races, each equivalent to swimming 2.4 miles, biking 112 miles and running a 26.2 mile marathon in under 17 hours. She also swam, biked and ran her way through an additional 286 triathlons and is one of a few, and maybe the only woman, in the United States to complete almost 400 all-distance triathlons.
She points to similarities between the skill sets required to prep for trial and prep for a big race – passion, determination, focus and self-confidence.
Then it's go-time. "You're standing on the starting line, you've prepared the best you can, you rely on your muscle memories … but to start the day I have to stay in a positive frame of mind," she said.
Haag's law school summer internship turned into her first job, working in the Duval County/Jacksonville State Attorney's office where she was a prosecutor for almost 10 years. In 1998, she tried 32 trials in 10 months in the repeat offender division, the most of anyone else in the office, garnering her an office award for most trials.
"I loved my time there, I really enjoyed being a voice for the State of Florida," Haag said.
From there she joined Spohrer Wilner Firm, P.A. handling plaintiff cases before working as an Assistant Attorney General in the Medicaid Fraud Control Unit. Now, she spends her time working as a Civil Traffic Hearing Officer.
Not long after starting law school, Haag noticed an advertisement for a local triathlon. Having no prior experience, she decided to race, borrowing a bike, and training with a friend to improve her aquatic skills. From there she went on to compete in her first 50 Iron distance triathlons in 10 years and the next 50 triathlons in 4.5 years – with 18 of those completed in 2012 – a feat she thinks might be a world record. She has competed in Brazil, Germany, Malaysia, Canada, Austria and Cozumel.
"I didn't realize I was doing anything special," said Haag, who says she enjoys the caliber of her fellow racers and looks at her ability to compete as a luxury. "I'm very lucky that I'm doing this, and I am able to do this, physically, financially and mentally, but I love challenging myself."
Haag was also a member of Team USA for five years, competing long course triathlons in Spain, France, Denmark, Sweden and Australia. Team USA represents the United States annually in the International Triathlon Union's world championships alongside more than 50 other countries.
While her athletic abilities might sound intimidating, she usually stops along the way to pet a dog, hold a baby, or hang with the back of the pack and offer encouragement when needed. "I'd much rather be a positive lightening rod out there, encouraging and inspiring others to achieve what they desire," she said.
Athletics is something that appeals to a broad array of people and according to Haag, so should law.
"You really do yourself a service if you go to law school," Haag said. "You will learn a whole new way of thinking that will open up so much more."