Mills advocates constitutional amendment before Florida Supreme Court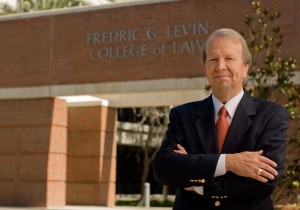 UF Law Professor and Dean Emeritus Jon Mills (JD 72) argued March 6 before the Florida Supreme Court on behalf of a constitutional amendment that would automatically restore the right of most felons to vote in Florida.
Before Chief Justice Jorge Labarga (JD 79) and the rest of the Supreme Court, Mills argued that the proposed "Voting Restoration Amendment" ballot language was a clear summary of the amendment text. Mills represented "Floridians for a Fair democracy," which sponsored the amendment. The Florida Attorney General took no position on the question.
A recent analysis by The Sentencing Project found that 10.4 percent of Floridians have been stripped of the right to vote, more than in any other state.
"Florida is in a small minority where basically all felons must go through the clemency process," Mills told the court. Under the amendment, voting rights would not be restored for people convicted of murder or felony sexual offenses.
Mills, who is director of UF Law's Center for Governmental Responsibility, has argued numerous times before the Florida Supreme Court. Mills is also a former speaker of the Florida House. Mills helped write the Florida Constitution as a member of the Florida Constitution Revision Commission and he teaches Florida Constitutional Law.
See video of the argument here: http://bit.ly/2m7RUVM