Alum contributes $1 million to support LL.M. tax students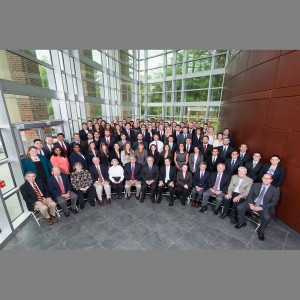 A UF Law alumnus has made a generous $1 million gift to the UF Law Taxation Program. The gift will establish The Graduate Tax Assistantship Fund, which will help UF Law provide financial aid to LL.M. students in the form of research assistantships. This support will allow UF Law to attract the best and most qualified LL.M. students.
"This is a truly extraordinary and timely gift. Significant competitive financial benefits are very important to potential students who have employment opportunities and debt from previous schooling to consider," said Michael Friel, associate dean and director of the Tax Program. "It allows us to make a year in our LL.M. program a financial possibility for an outstanding student."
The donor, a Florida man who wishes to remain anonymous, said a similar scholarship allowed him to attend Florida's tax LL.M. program.
"The program made a significant influence on where I ended up in my career," the donor said. "It was the best thing I ever did in education, and I'm glad I can now enhance the program and help the best students and professors."
Dean Laura Rosenbury said the donation further strengthens UF Law's powerful tax program.
"We are nationally known for our outstanding tax faculty and our J.D. and LL.M. students who decide to pursue tax careers. This generous endowment means UF Law can attract even more academically gifted tax LL.M. students without regard to financial need," Rosenbury said.
The gift is part cash pledge and part bequest. The UF Foundation will invest the gift in the form of an endowment so that the principal continues to generate income indefinitely. That income will be used to recruit new students and offer financial support. This gift has the potential to set a standard for support and for the quality of students in the tax LL.M. program, Friel said.
Both the donor and Friel hope that the gift spurs others to support UF Law's tax offerings and its students.
UF Law ranks No. 1 among public school tax programs in the U.S. and ties for second overall, according to U.S. News & World Report. Gifts like these from committed alumni allow UF Law to continue its mission of preparing students for tax careers around the country and world.
-By Chantelle McHugh