Professor Merritt McAlister Named Interim Dean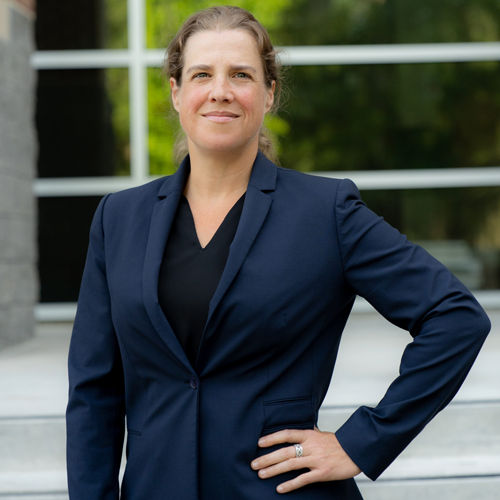 University of Florida Levin College of Law Professor Merritt McAlister has been appointed by Provost Joe Glover to serve as the law school's interim dean beginning June 1, 2023.
"I am thrilled that Merritt has accepted this important role for the college," said Dean Laura Rosenbury, who will become President of Barnard College this summer.  "Merritt is an incredible teacher, scholar, and leader, and it has been a privilege to be her colleague since 2018.  I am confident the law school will be in great hands with Merritt at the helm."
Professor Merritt McAlister teaches and writes in the areas of federal courts, judicial decision-making, constitutional law, and court administration. Her scholarship focuses on issues of institutional design in the federal appellate courts. McAlister's work has been published in or is forthcoming in the University of Pennsylvania Law Review, the Michigan Law Review, and the Northwestern University Law Review, among others. Her 2020 article, "Downright Indifference": Examining Unpublished Decisions in the Federal Courts of Appeals, received the annual prize from the AALS Federal Courts Section for the best paper on federal courts by an untenured professor. She currently serves as the Chair of the AALS Section on Federal Courts.
Prior to joining the University of Florida law faculty, Professor McAlister was a partner in the national appellate practice group of King & Spalding. While in private practice, she was elected to the American Law Institute, named a Georgia Super Lawyer, and recognized for her pro bono work on civil rights issues.
Professor McAlister clerked for Justice John Paul Stevens of the Supreme Court of the United States and Judge R. Lanier Anderson III of the U.S. Court of Appeals for the Eleventh Circuit. She received her bachelor's degree in English and Women and Gender Studies, magna cum laude, from Rice University and her law degree summa cum laude from the University of Georgia School of Law, where she served as Executive Articles Editor of the Georgia Law Review.
A national search for a permanent dean will be announced soon.