Professor named "Champion of Justice" by Three Rivers Legal Services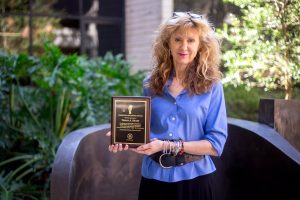 UF Law Professor Teresa Drake's advocacy for indigent individuals on their quest to access the justice system has earned her the Champions of Justice Award by Three Rivers Legal Services.
"She's a leader in intimate partner violence (law) and helped everyone in this community focus on it," said Christine Larson, executive director of Three Rivers Legal Services, a nonprofit that provides free civil legal assistance to indigent individuals across 17 Florida counties.
Drake's work reaches far beyond the legal landscape. On Nov. 3 she presented on vicarious trauma and mindfulness to a room full of emergency room doctors at the Abuse Awareness Symposium, held at the UF Department of Emergency Medicine.
The list of presentations she's given recently on trauma to groups of social service workers, health care professionals and attorneys consumes her entire office chalkboard.
Drake is director of the Intimate Partner Violence Assistance Clinic and visiting legal skills professor at UF Law. The clinic is staffed by students certified as legal interns, and is the first and only in the country that provides a range of legal services and other support for indigent survivors of domestic, dating and sexual violence, human trafficking and stalking.
The honor came as a surprise at a Three Rivers retreat late September after Drake presented on the effects of trauma, how it can manifest, and how to be a more trauma-informed law office. "She donated her time, and it was so typical of her," Larson said.
"It's so much more important when your peers think something's important because they really see what it is that you do," Drake said.