Relief from harm: Law school leads aid for domestic-violence survivors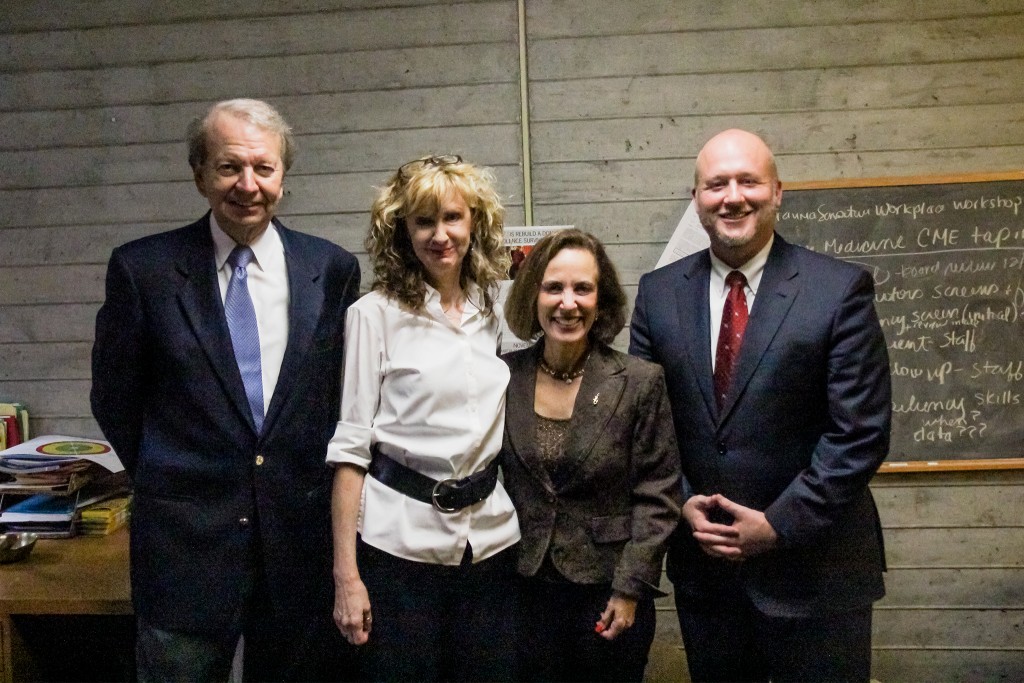 By Chantelle McHugh
How can domestic violence survivors keep themselves and their children safe when they don't know how to navigate the various agencies that provide basic needs or have the money to afford services?
UF Law has been part of the answer to this question since 2009 when UF Law Professor Teresa Drake received a U.S. Department of Justice grant for a multidisciplinary clinic to provide legal aid and other support to indigent domestic violence victims. In November, Florida Supreme Court Justice Barbara Pariente met with Drake to join the discussion.
The Intimate Partner Violence Assistance Clinic, known as IPVAC or the Source Program, provides wraparound legal, social work, victim advocacy and case management to aid survivors.
Drake and Pariente discussed how the clinic can continue to contribute to reform of statewide court practices and initiatives to help survivors of domestic violence and batterers in domestic violence court. It's part of a bid to tune the state judiciary into the consequences of domestic-violence trauma.
Pariente toured the clinic to learn more about the program during her visit. As a member of the Florida Women's Hall of Fame and chair of the Supreme Court's Steering Committee on Families and Children in the Courts, Pariente is passionate about improving how the needs of families in the community are met.
"I'm interested in the multidisciplinary approach of the clinic and the emphasis on trauma care, because if all you do is grant petitions, but don't recognize the underlying trauma domestic violence may cause, the consequences of not doing so can be tremendous," Pariente said. "The clinic is cutting edge and a model of what should be done throughout our state and country."
As the first and only clinic of its kind in the country, the clinic has the opportunity to not only support victims in Alachua County, but set a precedent for how we deal with domestic violence as a country.
The program benefits law students, too. It gives them the opportunity to learn legal interviewing, counseling and trial skills in a trauma-informed framework under the supervision of Drake. A clinical social worker and clinical interns provide mental health and crisis intervention for clients, while a victim advocate/case manager helps find resources for survivors' basic needs, whether that be housing, furniture or food.
IPVAC also helps survivors negotiate other systems they may encounter due to their trauma. Law students interact with the Office of the State Attorney, Office of The Public Defender, Department of Children and Families, Child Protection Team and Child Advocacy Center, just to name a few.
The majority of the clinic's work involve emergency injunctions, family law cases in state court and immigration visas for undocumented immigrants who, based on violence, are eligible for legal status. Drake said the clinic has represented people from 29 different countries.
IPVAC students partner with the College of Medicine's Mobile Outreach Clinic, riding the bus to low-income housing complexes to provide survivors with domestic-violence screening and education. Law students train medical students to administer screens and make appropriate referrals for social services. Law students also respond to UF Health social workers who call from the hospital requesting services for hospitalized survivors.
"Our students get the perspective of this multidisciplinary team where they can look at cases from all these different perspectives because of the varying disciplines involved in servicing these survivors and all the professionals we work with," Drake said.
IPVAC began with a two-year grant from the U.S. Department of Justice's Office on Violence Against Women. The grant has been renewed twice, providing well over $1 million for the program. Now that the grant has ended, Drake hopes alumni and friends will partner with the school to help fund the clinic so that it can continue to serve students and the community.
"Domestic violence isn't someone else's problem; one in every four women will be affected in this country. This is everyone's problem," she said.