Remembering Fredric G. Levin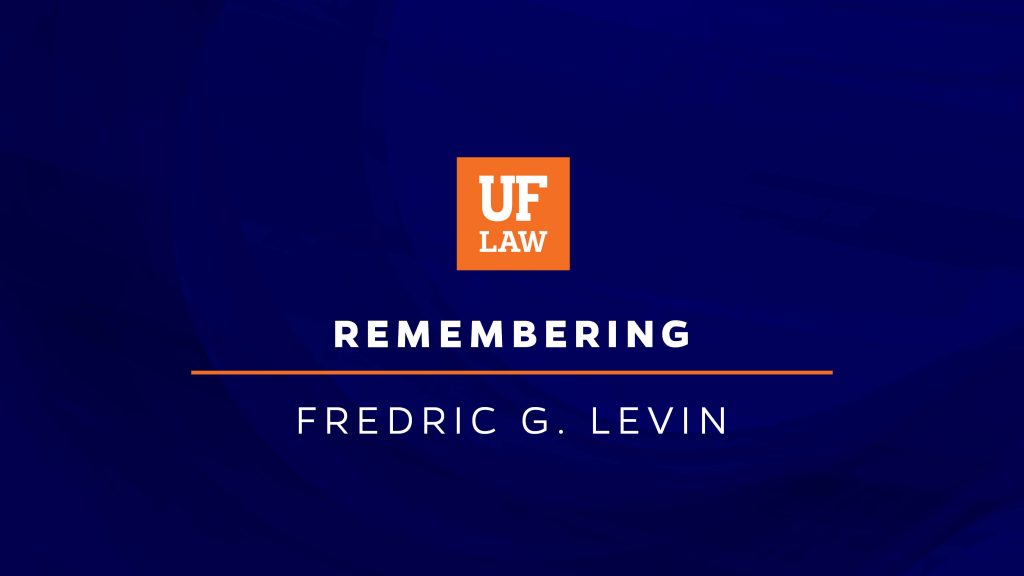 Dear UF Law Community,
I am deeply saddened to share the news that our namesake and champion Fredric G. Levin passed away Tuesday, January 12, at the age of 83.
After graduating from the College of Law in 1961, Fred went on to become one of the most successful trial attorneys in the nation, winning more than 25 verdicts in excess of $1,000,000.  In 1994, Fred received the "Perry Nichols Award," the highest honor bestowed by the Academy of Florida Trial Lawyers in recognition of lifetime achievements in the pursuit of justice.  The National Law Journal named Fred the top civil litigator in Florida and one of the Top Ten Litigators nationwide in 1999.  That same year, Fred was honored at the United Nations as he was named a Chief of the Republic of Ghana for his dedication to equal justice for people of all races.  The United States Congressional Black Caucus bestowed honors upon Fred at the same time.  In 2009, Fred was inducted into the Trial Lawyer Hall of Fame by the American Trial Lawyers Association.
Fred's incredible financial contributions to the College of Law, starting in 1999, have fueled our rise, supporting student scholarships, faculty recruitment, and the expansion of our campus.  We are forever indebted to Fred and his family and friends for their generosity.  Fred is survived by so many who have propelled the Levin College of Law forward, including close friend Phillip Morris, daughter Judge Marci Levin Goodman and son-in-law Judge Ross Goodman both from the UF Law Class of 1985, son Martin Levin from the UF Law Class of 1988, grandson Brenton Goodman from the UF Law Class of 2016, and sister-in-law Teri Levin, who was married to Fred's brother Allen Levin.
I will share more details in the coming days about services and other ways to celebrate Fred's life and legacy.  For now, we will create a tribute page at the College of Law to remember Fred.  If you would like to offer a memory or reflection, please email Whitney Smith at smithw@law.ufl.edu.
Please join me in extending our deepest condolences to Fred's family and friends.
Very truly yours,
LAR
Laura Ann Rosenbury
Dean and Levin, Mabie & Levin Professor of Law