SCOTUSBlog co-founder to discuss how personal experiences influence justices' decisions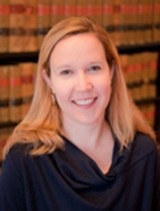 GAINESVILLE, Fla. – This year's 34th annual Dunwody Distinguished Lecture in Law will feature Amy Howe, co-founder and editor of the award winning SCOTUSBlog.com. As a leading legal expert on the U.S. Supreme Court, Howe will discuss how the personal backgrounds and experiences of the court's justices have informed the court's jurisprudence. This year's Dunwody Lecture, "Interpreting the Supreme Court: Finding Meaning in the Justices' Personal Experiences," will take place at the University of Florida Levin College of Law on Friday, March 20 at 11 a.m. in the Chesterfield Smith Ceremonial Classroom, HOL 285C. The event, which is free and open to the public, is sponsored by the Florida Law Review.
Howe has served as counsel in over two dozen merit cases at the Supreme Court and has argued two of those cases personally. She has taught courses on Supreme Court litigation at Stanford Law School, Harvard Law School, Vanderbilt Law School, and American University's Washington College of Law. Howe received her juris doctor from the Georgetown University Law Center.
SCOTUSBlog.com provides in-depth news coverage and analysis of the U.S. Supreme Court. The blog has a team of lawyers and journalists who expertly report on every merit case before the court, publish broad analytical articles examining court trends, and review how other media sources cover the court. SCOTUSBlog.com was founded in 2002 by Amy Howe and Tom Goldstein. In 2013, it became the first blog to ever receive a Peabody Award for excellence in electronic media.
The Florida Law Review Dunwody Distinguished Lecture in Law series was established by the U.S. Sugar Corporation and the law firms of Dunwody, White & Landon, P.A. and Mershon, Sawyer, Johnston, Dunwody & Cole in honor of Elliot and Atwood Dunwody. The honorees were brothers who dedicated their lives to the legal profession and who set a standard of excellence for The Florida Bar. As graduates of the University of Florida College of Law, they labored long, continuously, and quietly to better the social and economic conditions in Florida.
The Dunwody Lecture series is intended to perpetuate the example set by the Dunwody brothers by providing a forum for renowned legal scholars to present novel and challenging ideas.
An archived video of the Dunwody Lecture will be available at www.floridalawreview.com following the event.
Media inquiries can be directed to Executive Symposium Editors Matthew Christ and Dustin Mauser at press@floridalawreview.com or 352-273-0670.
Contacts:
Matthew Christ
Mchrist@floridalawreview.com
Dustin Mauser
Dmauser@floridalawreview.com