Students, faculty engage in robust discussions about the 'Role of Lawyers in Today's Society'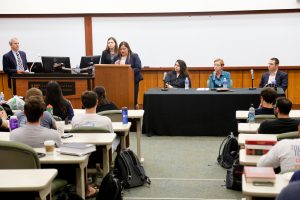 In response to recent national events, the University of Florida Levin College of Law launched a series of discussions about the "Role of Lawyers in Today's Society," led by UF Law scholars.
"Successful lawyers never impose their world views on clients or simply assume that the other side is wrong," UF Law Dean Laura A. Rosenbury wrote in a message to the UF Law community as she introduced the series. "Instead, we seek to understand the complex viewpoints of all parties."
Hundreds of students and several members of the faculty engaged in the series, which began Feb. 1 with a post-election conversation on immigration, led by Professors Berta Hernandez-Truyol, Darren Hutchinson and Shalini Ray. A roundtable discussion on current constitutional conflicts was led by Professor Elizabeth Lear, and a discussion on the future of the Supreme Court was led by Professors Michael Allan Wolf, Danaya Wright and Elizabeth Dale. In March, Mike Johanns, a former U.S. Senator, former Governor of Nebraska and former Secretary of Agriculture, drew a crowd of students and faculty to discuss how policy making works in Washington, D.C.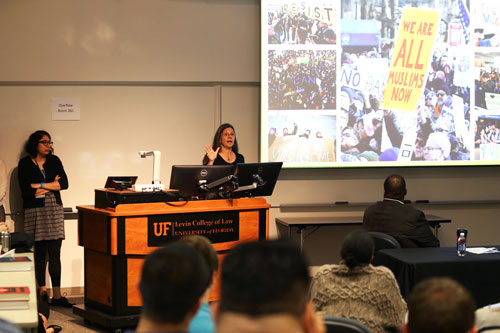 The series concluded April 19 with "A Conversation on Anti-Semitism and Islamophobia: Understanding Religious Discrimination and What the Legal Community Can Do to Address It," which was hosted by the Jewish Law Students Association and the Middle Eastern Law Students Association.
Dean Rosenbury says the turnout of these events illustrates the law community's strong commitment to civil and productive dialogue.
"I encourage all of you to continue participating in such dialogues with your professors and with each other."