Students launch online news source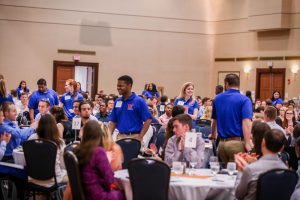 By Jessica Beugen (JD 19), Kéran Billaud (JD 19) and Meghan Bradley (JD 19)
A student-run school newspaper is an important part of any collegiate community. It is a forum where candid voices are heard, recognized and appreciated as representative of the student body. For the students, by the students, school newspapers often bring perspectives and event coverage that would otherwise be difficult to find outside of social media and discussions within smaller spheres.
We started this organization in the fall semester of 2016 to create a central platform that brings a more in-depth look at UF Law community events with post-event coverage. The Brief aims to provide articles on college and organization events, panels, fundraisers, timely issues as well as spotlight features on faculty, staff and alumni.
Most of this information is available pre-event on social media platforms like Facebook. That is, however, a scavenger-hunt process for students who must join numerous pages and attempt to keep up with each one. Furthermore, we know that students cannot make it to events all of the time, especially if they are concurrent. The Brief is a project that aims to offer pre- and post-event coverage as a one-stop site streamlined to make following student events easier.
This is our first semester, and our staff is limited, but growing. Starting now, we hope to fulfill our mission in union with UF's. By providing students with information that will encourage them to partake in opportunities UF Law provides, The Brief supports networking opportunities and furtherance of students' careers.
While we have our own staff writers, we encourage submissions from the UF Law community – students and faculty alike. New articles are published every week, and near the end of the semester, The Brief will compile highlights from the semester to include in an electronic magazine publication. We hope that this will serve as a pleasant reminder of what we have learned and experienced along our journeys at UF Law.
The authors of this post are cofounders of The Brief.