Supreme Court on campus: Justice Thomas spends week with UF Law students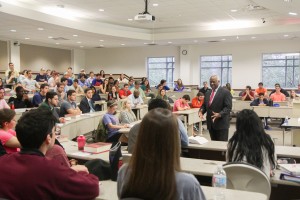 Ben Silva, a third-year law student began reading U.S. Supreme Court Justice Clarence Thomas' opinions during his undergraduate years, while he studied American History with an emphasis on slavery, the Civil War and the Civil Rights Movement. Little did he imagine that one day he would have the opportunity to spend hours in class with the justice himself to explore his opinions and to share ideas with him and a few dozen other classmates on the crucial role legal advocates and judges play in American society.
"I'm not looking for a right answer," Justice Thomas told a group of 40 UF Law students. "I'm looking for your answer. I want to know what you think."
Justice Thomas packed a lot into his stay in Gainesville Jan. 26 – Jan. 29. He co-taught taught four days of Property Rights and the U.S. Constitution with Professor Michael Allan Wolf, who invited Justice Thomas to campus. He popped into first-year property classes to exchange ideas with students. He shared lunches and dinners with current and prospective UF Law students, University of Florida President Kent Fuchs and several alumni.
"UF Law is honored that Justice Thomas returned to our campus to co-teach a course on property rights with Professor Michael Allan Wolf," said Dean Laura A. Rosenbury, Levin, Mabie and Levin Professor of Law. "Justice Thomas was a truly delightful guest. He even participated in an impromptu selfie video with UF President Kent Fuchs that was viewed by tens of thousands Twitter users around the world."
In the constitutional law class, Justice Thomas detailed cases concerning retroactive laws, due process, equal protection, eminent domain and regulatory taking with second and third-year students who literally won a lottery for a seat in the class.
Typically, Justice Thomas remained in the classroom at least 45 minutes after the scheduled end of class, sharing ideas with the full class and then chatting more informally with several students before he was hurried to his next commitment.
Justice Thomas also made surprise visits to UF Law's three first-year Property sections, taught by Professors Alyson Flournoy, Christine Klein, and Danaya Wright.
"Almost immediately, Justice Thomas immersed himself in the flow of the class, challenging the students with hypotheticals designed to explore the limits of the government's power to take property while paying just compensation," said Wright. "He is relaxed yet demanding in the classroom, and the students did not want him to leave even when class was running an hour late."
Justice Thomas encouraged students to determine what they hope to create for their communities and to carefully consider how cases affect people's lives. He stressed that the beauty of law school is in creating an environment in which students can think through cases without an agenda and work through competing considerations.
"I like being around bright young kids who are trying to figure things out honestly," Justice Thomas said. "I often walk away with something powerful and with questions I can't answer."
"Because his two previous visits to campus focused on public events, this time Justice Thomas wanted to take time for meaningful, in-depth, intellectual exchanges with students and faculty," Wolf said. "He wanted a more hands-on and personal interaction. The course was a success well beyond our already high expectations, primarily because Justice Thomas was eager to challenge and to be challenged."
Silva said the justice focused students' critical attention on the court's reasoning, while giving them insight on Supreme Court decision-making.
"Justice Thomas challenged us to always question why the Supreme Court's precedents came out the way they did – to start with the core constitutional principle that the court is considering, and then think about the history and context of each decision," said Silva. "He was impressed by our class's eagerness to dive into thorny issues, to bounce ideas off each other and willingness to concede that there are no easy answers. He said that is exactly how the justices deliberate in their conferences."
Justice Thomas spoke about inspiring the next generation of great advocates, both academically and in developing strong character. He noted that he often chooses students from leading state schools when selecting his clerks.
"I like state school kids. The only difference between my clerks who went to state schools versus Ivy League schools is debt – they're brilliant but they have less debt. There is a ton of talent here," Justice Thomas said.
Dean Rosenbury took that as a compliment.
"We are thrilled that Justice Thomas recognizes the quality of our students," said Rosenbury.  "Justice Thomas is one of the many judges, scholars, and leaders who frequent our campus, strengthening our national and international profile."
For 2L Nicole Cuccaro, it was a visit she won't forget.
"I grew up reading his opinions, so it's amazing that he was here and we could have a candid discussion about those decisions," said Cuccaro, who spoke with Justice Thomas at a dinner for leaders of diverse student groups. "I'm thrilled that he was eager to not only talk about the law, but to share his experiences and inspire us to really think through issues as people who may have the ability to influence so much in the future."
This event marks the ninth visit by a U.S. Supreme Court justice or former justice since 2005. Before Justice Thomas even left sunny Florida for his return trip to the North, he and Wolf were discussing the possibility of a follow-up course at UF Law. It could not come soon enough for the UF Law community.