UF Law alumna helps carry on the legacy of 'America's lawyer'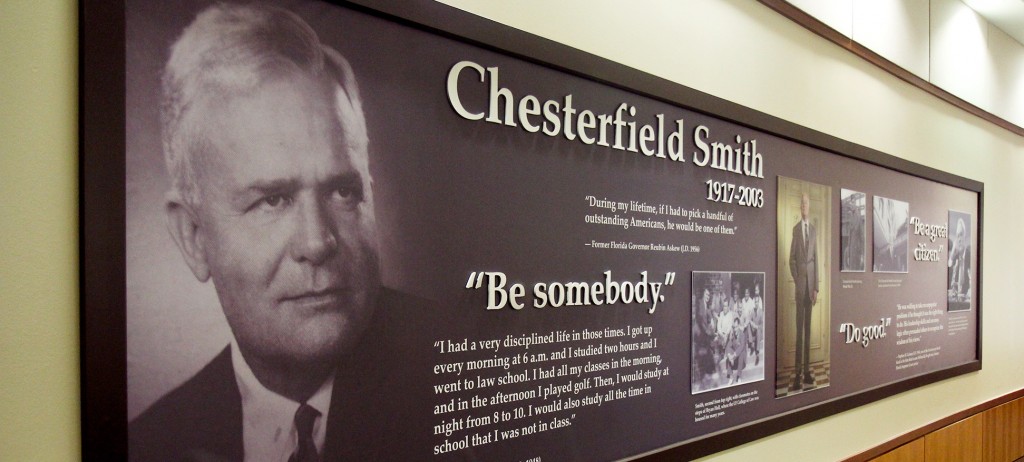 GAINESVILLE, Fla. – Although he passed away in 2003 at the age of 85, Chesterfield Smith's great influence and legacy can be felt daily at the University of Florida Levin College of Law, from which Smith graduated in 1948. From the Chesterfield Smith Ceremonial Classroom that hosts some of the most prestigious speakers visiting UF Law, to the legislative and legal precedents set by Smith during his lifetime still being studied in its classrooms today, he is very much a part of the ongoing life of UF Law.
And his legacy is still growing, thanks to a very generous gift announced in a ceremony last Friday, Sept. 18, in honor of Smith. The gift from Smith's wife, Jacqueline Allee Smith (JD 78), of Coral Gables, will establish the Chesterfield Smith Eminent Scholar Chair Fund. The gift will transition the existing Chesterfield Smith Professorship to the Chesterfield Smith Eminent Scholar Chair.
The Eminent Scholar Chair is the most prestigious academic appointment available to University of Florida professors and UF Law is proud to add the Chesterfield Smith Chair to this distinguished echelon.
Smith's family, friends and colleagues gathered in the classroom bearing his name for the unveiling of a new commemorative display in his honor, and to remember his legacy. Among the speakers were former American Bar Association President Martha Barnett (JD 72), Buddy Schulz (JD 73), Tiffani Lee, and Tracy Nichols (JD 84), all of whom are partners at Holland & Knight, which Smith played a key role in establishing.
"In so many ways, Chesterfield is still alive to and missed by colleagues, friends, and those many he mentored over the years," Allee Smith said in a phone interview. "I hope his legacy will continue in the future by generations of new lawyers who may want to know more of him."
The Chesterfield Smith Eminent Scholar Chair Fund will bolster resources available to faculty who hold this position and will enhance UF Law's research and scholarship opportunities.
Allee Smith – who has had a very successful career in her own right as the head of the bankruptcy offices in the Holland & Knight Tampa offices and as dean of St. Thomas University School of Law – said she is pleased to be able to help continue her husband's legacy at UF Law.
"Chesterfield loved the law and the legal profession. He spent his entire professional life trying to improve both," she said. "He tirelessly and unceasingly exhorted lawyers to honor their duty, created by the privileges granted to them by the states, to provide services or efforts to make improvements in laws for those who have little or no access to the system of justice."
She said her husband cared very much for the University of Florida College of Law and was always available for advice and assistance to the university and law school.
"He gave of himself unstintingly," she said. "The foundation of his care was the recognition of all that both gave him through his education."
During his professional career, Chesterfield Smith stood as an exemplary lawyer and advocate of the rule of law. Smith's numerous influential positions included serving as president of The Florida Bar, chair of Florida's Citizens for Judicial Reform and member of the Federal Commission on Executive, Legislative and Judicial Salaries. Smith was largely responsible for establishing uniform rules of procedure in Florida Courts and is the "father" of the modern Florida Constitution.
"Chesterfield also early championed the recruitment of minorities and women into the major law firms," Allee Smith said. "His personal ethic was to do good, work hard, and have fun along the way."
Smith is possibly best known for his actions while president of the American Bar Association, a voluntary association of lawyers which sets standards for legal education and ethical codes within the profession. Allee Smith said the ABA is often referred to as "before Chesterfield Smith" and "after Chesterfield Smith." He was among the first public figures to call for President Richard Nixon's impeachment and resignation and for the disbarment or other disciplinary actions against lawyers who violated legal codes of ethics in the Watergate scandal. Smith's statement that "No man is above the law" drew national headlines.
U.S. News and World Report listed him among the nation's 60 most influential people in the 1974 and 1975 articles entitled "Who Runs America." A Time magazine essay included him in a list of 35 "noncandidates" qualified for the presidency. In his book, The Greatest Generation, Tom Brokaw dedicates a chapter to Smith, calling him "America's lawyer."
Despite his status as a national figure and advocate for justice, Smith always referred to himself as a country lawyer – recalling his early days in Bartow where he joined the three-man firm of Holland, Bevis and McRae. The association would eventually lead him to become a principal architect in establishing the law firm Holland & Knight, which today employs over 1,100 lawyers in the U.S., China, Mexico and the United Arab Emirates. He was named a University of Florida Distinguished Alumnus in 1966.
Allee Smith established the Chesterfield Smith Collection at University of Florida Smathers Libraries. The collection includes all of his speeches, personal documents and a large collection of oral recollections and audiovisual materials.