UF Law Alumni Reubin Askew Passes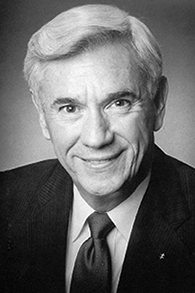 Reubin Askew, a Levin College of Law alumni leader and an iconic figure in Florida's history, has passed away.  A 1956 UF Law graduate who served 12 years in the Florida Legislature, Askew was a two-term governor of Florida in the 1970s and a candidate for the presidency in 1984 and Senate in 1988. He passed away Thursday, March 12th, in Tallahassee following complications from pneumonia and a stroke. He was 85. Askew was an outspoken consumer advocate and known for his push for education and judicial reforms and racial equality.
"Governor Askew demonstrated how public service can be honorable," said UF Law Professor and Dean Emeritus Jon Mills, a close friend of Askew's. "He showed you could stand for your principles, even controversial ones, and still be elected and respected." Mills, who was a member of the Florida House of Representatives from 1978-88 and house speaker from 1987-88.
UF President Bernie Machen said, "We will miss Reubin Askew, but his legacy is cemented in Florida's history, including here at the University of Florida in the form of the Institute on Politics and Society that bears his name. To this day, the state continues to benefit from his uncommon leadership on issues as diverse as the environment, public records, tax and education reform and racial integration."
Former UF Provost David Colburn says many people considered Reubin Askew as one of the country's top 10 or 20 governors in the 20th century.
Read more in the following stories: