UF Law Alumni Summer 2019 Events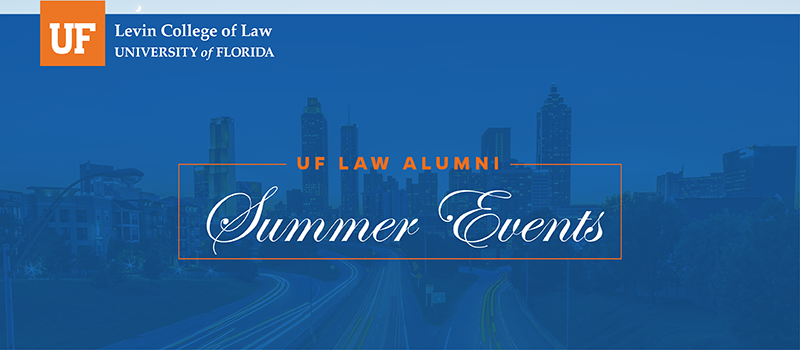 UF Law looks forward to connecting with alumni throughout the nation beginning June 12. Check back for updates and additions!
June 12
Tallahassee
Hosted by Tim Jansen at Jansen & Davis
125 North Franklin Blvd
June 13
Denver
Hosted by UF Law at V's Lounge, Westin Hotel Downtown Denver
1672 Lawrence Street
June 19
New York City
Hosted by Michael Smith at Chubb HQ
1133 Avenue of the Americas, 44th Floor
June 25
Miami
Hosted by Lee Stapleton at Carlton Fields
100 SE 2nd Street, 42nd Floor
June 27
Boca Raton
Hosted by UF Law at The Florida Bar Annual Meeting, 6:30 – 7:30 p.m.
Boca Resort & Club, Grand Ballroom G
July 17
Washington, D.C.
Hosted by Richard Smith at Quinn Emanuel
1300 I Street NW, 9th Floor
July 29
Orlando
Hosted by Derek Bruce at Gunster
200 South Orange Avenue, 14th Floor
July 30
Tampa
Hosted by Mark Criser at Hill Ward Henderson
101 East Kennedy Blvd, 37th Floor
August 28
Jacksonville
Hosted by Charles Jimerson and James Birr at Jimerson Birr
1 Independent Drive, 14th Floor
September 12
Charlotte
Hosted by Michael Hawley at K & L Gates
214 North Tryon Street, 47th Floor
All receptions will be held 5:30 – 7:00 p.m. unless otherwise noted. For more information or to register, email development@law.ufl.edu. If you are an admitted student looking for more information, please email admissions@law.ufl.edu. We look forward to seeing you soon!