UF Law Celebrates the Class of 2017

More than 400 students joined UF Law's global alumni network on May 19 during the Class of 2017 Commencement Ceremony.
"UF Law has offered you the tools and training to succeed as a lawyer," Dean Laura A. Rosenbury told the graduates. "Now is your opportunity to go out and change the world. That's the UF Law tradition, and you are charged with upholding that tradition for future generations of Gators."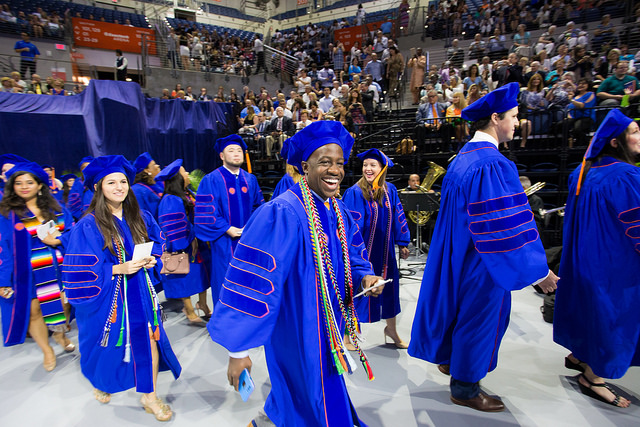 Triple Gator Oscar A. Sanchez (JD 82), chair of the board of trustees of the University of Florida Law Center Association and founder of OAS Mediation in Miami, also addressed the graduating class and welcomed them to a network of more than 21,000 alumni worldwide.
"Our alumni have been known for generations for their distinction, their leadership and their service in the highest ranks of our profession," said Sanchez.
Seth Donahoe (JD 17), who will soon clerk for Federal Magistrate Judge Patricia Barksdale, delivered the student commencement address.
"You have engaged in an important dialogue about the unquestionable role race plays in our criminal justice system, mass incarceration and police use of force," Donahoe said. "You have vigorously debated contemporary problems our society faces following one of our nation's most divisive and polarizing elections. You have marched for gender equality, racial equality, freedom of religion, and made it known that acts of violence are never a pre-existing condition, and that discrimination of any kind will not be tolerated."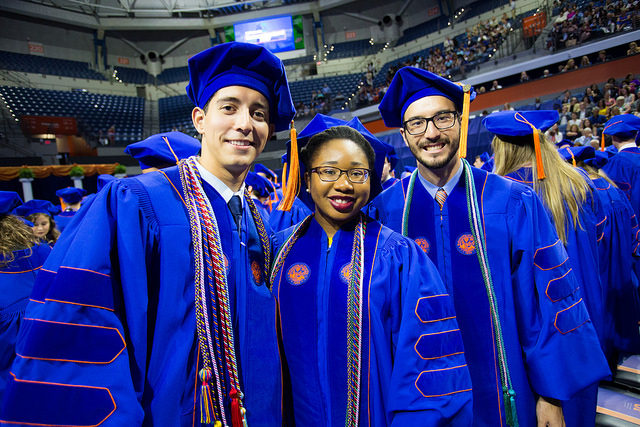 Commencement speaker Cesar Alvarez (JD 72), senior chairman and former CEO of Greenberg Traurig in Miami, helped grow the company from a regional firm into one of the nation's top 10 largest firms. He is the only Hispanic lawyer to lead a top 10 law firm.
He told graduates that the most exciting times are still ahead. "There's going to be a lot of changes and you guys are going to be able to direct that change," Alvarez said.
"You'll have opportunities right off the bat to do a lot of things and to move forward, if you are willing to get engaged," Alvarez said.
Connect with UF Law's 2017 commencement coverage here:
UF Law sneak peek photo gallery
Stephen C. O'Connell Center gallery