UF Law Class Discusses Product Placement Contract for AMC's Walking Dead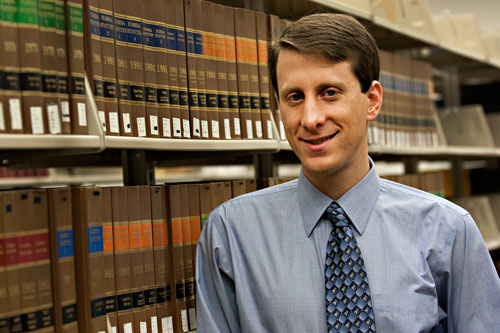 In AMC's original series "The Walking Dead" a green Hyundai Tucson aids a fictional team of zombie fighters on their quest for survival.
In reality, Hollywood scenes like this are often brought to life with the help of lawyers and the contracts they negotiate behind the scenes.
At UF Law, students get an in-depth look into these legal matters from highly regarded practitioners as part of UF Law Professor D. Daniel Sokol's General Counsel Practicum class.
Last month via Skype, Madhu Goel Southworth, Senior Vice President, Legal & Business Affairs for AMC and Sundance TV, described the product-placement licensing agreement between AMC and Hyundai that set the terms for that green car in the show.
According to Sokol, his class – a mix of 2Ls, 3Ls and LL.M. students – was impressed.
"Some said it was the coolest hour that they've ever had in law school and for some of them, the coolest hours of their lives," said Sokol, the UF Foundation Research Professor of Law.
"I hope I can do it again in the future," Southworth said.
Sokol launched the class in 2012 after noticing many courses only touched on simple contract agreements.  The class and its guest speakers, which have included lawyers from CSX among other national corporations, have examined various agreements, including merger and acquisition agreements, software agreements, and licensing agreements for product placement.
"Here we are doing something different, at the same time far more practical, but also far more analytical and theoretical," Sokol said.  "We spend lots of time understanding the economics of the deal. You cannot be a good deal lawyer unless you understand the business unit's objectives."
In the first class of the semester, Sokol brought up antitrust risk-shifting in the merger between health insurers Aetna Inc. and Cigna Corp. Over time, students were able to further analyze the companies' squabble over the contract provisions Sokol presented.
"What I am doing is cutting edge – literally front page Wall Street Journal material – because when you set high expectations for the students, the students are going to work harder and be more innovative and analytical in how they approach practice," Sokol said.
Sokol said Southworth's visit made a particularly strong impression because she works for one of the more popular shows on television. "Every student wants a job working for AMC, and, in fact, at the end of the class, she reminded students there are externships that she oversees at AMC," Sokol said.