Anniversary and influence: Forty years after the Cuban-American Lawyers Program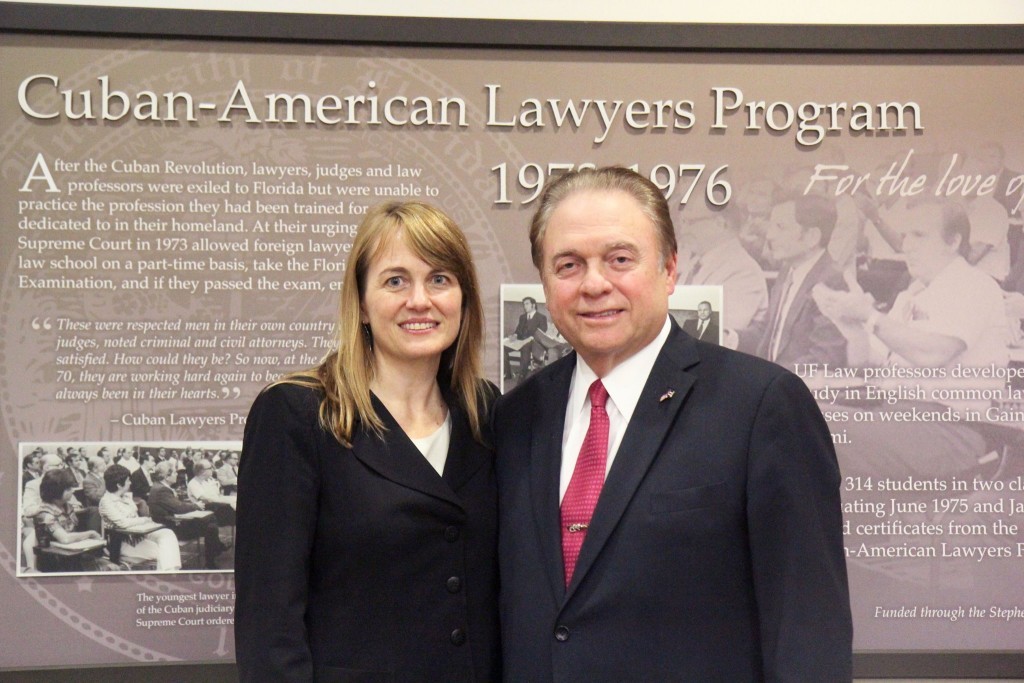 There was much praise of America and the University of Florida during the Cuban-American Lawyers 40th anniversary celebration at UF Law.
America for the freedom it conferred on lawyers and their families escaping the regime of Communist dictator Fidel Castro and the university for its embrace of Cuban lawyers who had gained freedom but lost the profession they loved.
"For The Love of Law: Celebrating the 40th Anniversary of the Cuban-American Lawyers Program," sponsored by The Stephen N. Zack Endowment, brought graduates, families, students and other members of the UF Law community to the campus Oct. 16.
Zack (JD 71) was the first Hispanic president of The Florida Bar and the American Bar Association. He and his family fled Cuba as Castro tightened his grip on power. Zack said that when he arrived in Miami with his family in 1961 it was a sleepy southern city with an edge of prejudice.
It has grown into a sophisticated, cosmopolitan center of Latin American commerce and culture in no small part, Zack said, thanks to UF Law's Cuban-American Lawyer's Program.
"You can trace generation to generation how Miami became the international city it is today from this program," Zack said. "I came over in '61 from Cuba. When I came over we saw lots of friends of ours, who were lawyers especially, doing gardening, being a waiter, doing anything they could to support their family. And they would be doing the same thing today or something similar if it wasn't for this program."
Oscar Sanchez (JD 82), president of the UF Law's board of trustees and a Cuban-American, noted that the named partner of the first firm he worked for was a graduate of the program. His son attended Harvard Law and became mayor of Coral Gables. Another son is a dentist and another is a banker.
"It allowed these political refugees to come here and practice their loved profession, the practice of law … and to provide for their families and to provide the seed for those who came after them like me and like Steve (Zack) and like Justice (Jorge) Labarga." Sanchez said. "The program was sort of like a pebble that you drop into a pond and then out come the ripples."
One of those pebbles was Jose "Pepe" Villalobos. Immediately after graduating from law school in Cuba, Villalobos was ordered to swear allegiance to Cuba's new fundamental law as promulgated by the Castro regime. He refused, suffered a beating from militia and fled the country. By the 1970s Villalobos was working as a roofer in South Florida when the program came along.
"We immersed ourselves in the true understanding of Jefferson and Madison, the true meaning of being an American," Villalobos said.
Villalobos was one of 314 foreign-trained lawyers and judges, most but not all Cuban, who graduated from the program made possible by an order of the Florida Supreme Court.  After the Supreme Court order, UF Law quickly developed a course of study to teach foreign lawyers the common law and give them a chance to enter the Florida Bar. Dean Joseph R. Julin assigned 13 professors to the program, made Julian C. Juergensmeyer the program director and began offering weekend classes.
Emeritus Professor Fletcher Baldwin, who continues to teach at UF Law, was one of the professors who took up the challenge. Forty years later, Baldwin said it was worth the effort.
"They had a lot to give Miami, they had a lot to give the state of Florida and the United States. I was grateful and am grateful and with the teaching experience that I had with these gentlemen,'' Baldwin said.
Osvaldo Miranda, who left Cuba this year to pursue an LL.M. at Duke School of Law, was a commercial lawyer in Cuba where he defended the rights of international corporations. Before that he served as an appellate judge right out of the University of Havana Law School.
Miranda tied together the past and the future, describing the pressure in the Cuban justice system to conform to the political line of the party and president rather than written law, statutory or constitutional.
UF President Kent Fuchs wants the university to expand its international footprint and the Cuban lawyers program was a pioneer.
"As this program was a brilliant program in the past – it is a model for the future," Fuchs said.
UF Law Dean Laura Rosenbury noted the growing connections between Cuba and UF Law since diplomatic relations have opened between Cuba and the U.S. She talked of drawing Cuban lawyers to UF Law where they could enroll in the comparative law LL.M.
In September, University of Havana Law Professors Teresa Delgado Vergara and Marta Moreno Cruz spent a week talking to students, meeting with faculty and exchanging ideas with the UF Law community. In November, UF Law returns the favor as Professors Berta Hernandez-Truyol, Jon Mills and Lyrissa Lidsky travel to the University of Havana.
Harley Herman (JD 77) noticed the signs around campus while he was a student but never knew what they meant: CUBAN LAWYER PROGRAM SATURDAY ROOM 103. When he began investigating its meaning a few years ago Herman found numerous Cuban lawyers and their families who told him how the program changed their lives. He became determined to encourage 40th anniversary celebrations of the program that have since been held in Tampa, Miami and now Gainesville.
"What's happened here is a reflection of the stories that I heard when I met people," Herman said as he introduced program participants.
A UF Law committee organized the event, which was co-chaired by Berta Hernandez-Truyol, Levin Mabie and Levin professor of law, and by Senior Director of Communications Debra Amirin.
For a video of the Cuban-Lawyers celebration lunch go to http://bit.ly/1GpSbMn; for the main celebration see http://bit.ly/1LLOwZT.
You can contribute to the Cuban-American scholarship fund by writing the University of Florida Levin College of Law, P.O. Box 117623, Gainesville FL 32611-7623 or call 352-273-0640.