UF Law Hosts Cross-Disciplinary Conference on Compliance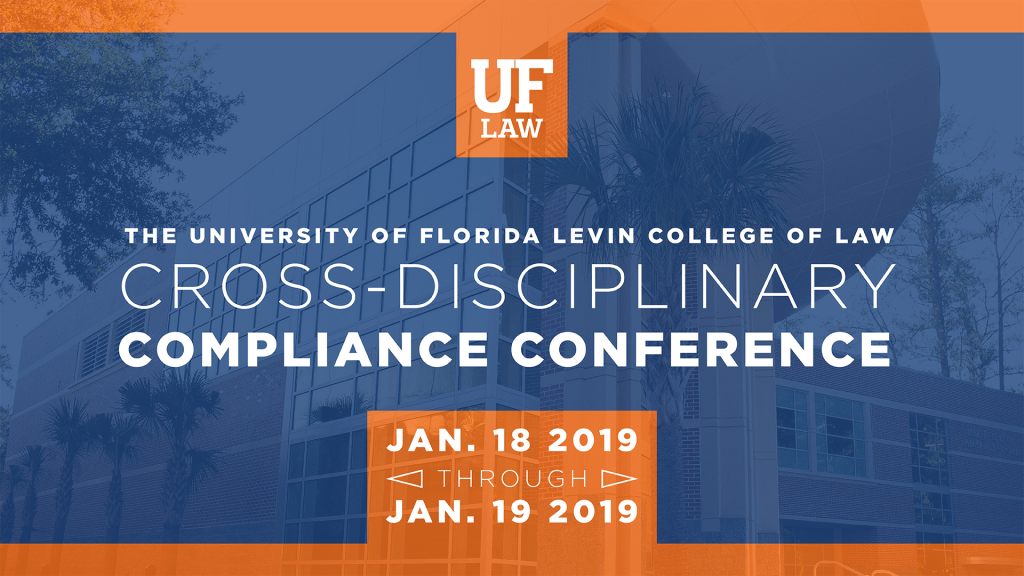 University of Florida Levin College of Law
Martin H. Levin Advocacy Center
January 18 and 19, 2019
*Information available as of January 11, 2019.
This conference will bring together academics from across disciplines.  Participants are part of a broader 84-chapter Handbook on Compliance that Professors D. Daniel Sokol (University of Florida Levin College of Law) and Benjamin van Rooij (University of Amsterdam and UC Irvine Law) are co-editing for Cambridge University Press.
There has been immense interest and growth in compliance as a distinctive field of study and practice.  Practices have emerged without a sufficient evidentiary or theoretical grounding.  As a result, much of the scholarly work in this area remains at an early stage in its development, especially as to empirical matters of measurement and assessment.  The Handbook will offer a synthesis of the extant literature in an area, both theoretical and empirical, and will provide calls for further work and concrete suggestions (which benefits practitioners), thereby achieving a balance in the chapters as to the academic versus the practical, the known versus the unknown, etc.  The conference presents an opportunity for feedback for works in progress of particular chapters.  Presenters for the conference come from a diverse set of backgrounds: law, economics, sociology, criminology, accounting, operations management, finance, strategy, psychology, and business ethics.
Agenda:
Friday, January 18th
8:30am-9:00am. Breakfast and registration
9:00am-9:15am Opening remarks
9:15-10:30am Panel 1
Benjamin van Rooij, University of Amsterdam – Legal Knowledge
Rosanna Guadagno, Stanford – Compliance as Obedience
Vic Khanna, University of Michigan – Compliance as Costs and Benefits
10:30am-10:45am Coffee break
10:45am-12pm Panel 2
Daniel Nagin, Carnegie Mellon – Procedural Justice and Duty to Obey the Law
Jim Alm, Tulane – Lab Experiments (social psychology, experimental economics)
Daniel Sokol, University of Florida – Data breaches
12pm-12:45pm Lunch
12:45pm-2pm Panel 3
Stacey Tovino, UNLV – Healthcare
Donald Macrae, XDG Consulting Ltd. – Food Safety
Jay Shimshack, University of Virginia – Environment
2pm-2:15pm Coffee break
2:15pm-3:30pm Panel 4
Cindy Alexander, George Mason University Law and Economics Center – Evidence from Settlements
Johannes Paha, Justus-Liebig-University – Antitrust
Jesse Bull, FIU – Incentive contracts
3:30pm-3:45pm Coffee break
3:45pm-5:00pm Panel 5
Kevin Davis, NYU – Anti-bribery/Corruption
Veronica Root, Notre Dame – Third Party Monitors/Appointed Monitors
Michal Kania, GW – Procurement
Dinner 6:30pm – Location TBD
Saturday, January 19th
8:30am-9:00am coffee and scones/biscotti
9:00-10:15am Panel 1
Muel Kaptein, Erasmus University – Codes of conduct/ethics
Josephine Nelson, Villanova – Internal Firm Behavior and Compliance
Elianne van Steenbergen, Utrecht University – The Organizational Psychology of Compliance
10:15-10:45am coffee
10:45am- 12pm Panel 2
Martin Grace, Temple – Insurance
Pascal Courty, University of Victoria – Sports
Li Chen, Cornell – Monitoring and Audits
12pm Boxed Lunch and end of conference
Speaker Bios:
D. Daniel Sokol is the University of Florida Research Foundation Professor of Law and Term Professor of Law at the University of Florida Levin College of Law and Senior Of Counsel at Wilson Sonsini Goodrich & Rosati. He also teaches a yearly compliance class, "Global Business Regulation and Risk Assessment," at Northwestern's Pritzker School of Law. Sokol has published a series of books and articles in law, economics and management on various issues, including compliance. He is the co-editor of the Global Antitrust Compliance Handbook (Oxford University Press 2014). He has a multi-volume multidisciplinary Cambridge Compliance Handbook under contract with Cambridge University Press.
He has provided technical assistance and capacity building to antitrust agencies and utilities regulators around the world. Daniel is also a non-governmental advisor to the International Competition Network, academic advisor to the US Chamber of Commerce for Antitrust, and is a frequent speaker to both practitioner and academic audiences globally. Sokol is also among the top 10 most cited antitrust law professors in the past five years. He has taught at a number of other universities including: Northwestern Law School, University of Minnesota Law School, Catholic University of Chile, University of Haifa, University of Tokyo, and the University of Melbourne.
Benjamin van Rooij is Director of the Amsterdam Graduate School and Professor of Law and Society at the Faculty of Law, University of Amsterdam. He is also a Global Professor of Law at the University of California, Irvine. He studies and teaches about the interaction between law and behavior. His current research focuses on indiviudal differences in compliance, toxic corporate culture, and assumptions about behavioral change. His past work looked at compliance, regulatory law enforcement and access to justice in China in a comparative perspective. He is also co-editor of Regulation & Governance, and founding convener of ComplianceNet a global network of compliance scholars.
Josephine Nelson is a professor of law, expert legal consultant, and start-up advisor. She holds the first tenure-track appointment in a U.S. law school specifically to teach business ethics and develop law-school curricula around the subject. She serves as an associate professor of law at Villanova Law School, has a courtesy appointment in Villanova Business School, and is a senior fellow at the Carol and Lawrence Zicklin Center for Business Ethics Research at the University of Pennsylvania's Wharton School. She writes on business issues, the federal courts, and on white collar crime. She has received numerous awards from the Academy of Legal Studies in Business, including the 2016 Ralph Bunche Outstanding International Paper prize, the 2015 Outstanding Proceedings prize, and the 2015 Gaylord Jentz Memorial Scholarship. She is currently finishing a book for the Oxford University Press with the late Lynn Stout, Distinguished Professor of Corporate & Business Law at Cornell Law School, entitled Business Ethics: What Everyone Needs to Know.
Jay Shimshack is Associate Professor of Public Policy and Economics at the University of Virginia's Frank Batten School. Prior to joining UVa, Shimshack held positions at Tulane University and Tufts University and a visiting faculty fellowship at the University of Michigan. His major fields are environmental regulation, environmental economics, corporate social behavior, and applied microeconomics for public policy. Specific research interests include the law and economics of environmental regulation; the choice of environmental policy instruments; the economics of corporate social responsibility; and the benefits and costs of environmental and health policies. He is a former co-editor of the Journal of Environmental Economics and Management (JEEM), a leading economics field journal. His academic research has been published in JEEM, the Journal of Law and Economics, the Journal of Health Economics, the Journal of Economic Literature, and elsewhere. He has advised the EPA, the FDA, the USDA, and other federal agencies; consulted for private organizations; testified before the US House of Representatives; and written numerous policy oriented outreach publications. Teaching experience includes statistics and research methods, environmental economics and policy, public service learning, and microeconomics. At the University of Virginia, Jay teaches economics for public policy and benefit-cost analysis.
James Alm is Chair of the Department of Economics at Tulane University. Previously, he was Regents Professor in the Department of Economics at the Andrew Young School of Policy Studies at Georgia State University in Atlanta, Georgia, where he served as Chair of the Department and Dean of the School. He has also taught at Syracuse University and at the University of Colorado at Boulder. He earned his master's degree in economics at the University of Chicago and his doctorate at the University of Wisconsin-Madison. Much of his research has focused on public economics, in such areas as tax compliance, the tax treatment of the family, fiscal decentralization, and tax reform. He has served as editor of Public Finance Review and as President of the Southern Economic Association tly the Second Vice-President of the National Tax Association.
Cindy R. Alexander is a research fellow at the Law and Economics Center (LEC), George Mason University, as part of a study of innovation in the settlement of DOJ corporate criminal investigations (DOJ Deferred Prosecution Agreements).  She is also affiliated with the SEC.  Her interest in corporate crime began while an economist at the DOJ, before serving in 2002 as Senior Economist at the Council of Economic Advisers. Dr. Alexander's published work relating to principal-agent problems in economics and finance appears in Review of Financial Studies, Journal of Accounting and Economics, Journal of Economic and Management Strategy, Yale Journal on Regulation and, regarding crime, the Journal of Corporate Finance, Journal of Law & Economics, Federal Sentencing Reporter, North Carolina Law Review, and American Criminal Law Review.
Elianne F. van Steenbergen is as an assistant professor at Utrecht University, Social and Organizational Psychology, the Netherlands. For the other half or her time she works as a senior supervisor at the Dutch Authority for the Financial Markets in the Behavior & Culture expert team, the Netherlands. Her explicit aim is connect the practice of supervision with psychological research, and educate students in this fascinating field of the 'Psychology of Supervision'. Her research centers around identifying healthy building blocks of corporate culture that stimulate ethical, client-focused behavior in the financial sector, such as error management and fair rewards and recognition.
Naomi Ellemers is Distinguished University Professor at Utrecht University. As a social and organizational psychologist she combines experimental methodologies examining brain activity and stress with observations of people in the workplace. Her aim is to understand how group affiliations impact on individual behaviors, in particular in relation to diversity and inclusion, integrity, and work ethics.
Stacey A. Tovino is a leading expert in health law, bioethics, and the medical humanities. She has particular expertise in the regulatory, operational, and financial aspects of health law, and she frequently explores issues that lie at the intersection of health law and information law, including those involving the HIPAA Privacy Rule, the EU GDPR, and state privacy, security, and breach notification laws. Educated as both an attorney and a medical humanist, Professor Tovino publishes her interdisciplinary work in textbooks, casebooks, edited readers, law reviews, medical and science journals, and ethics and humanities journals. Recent law review publications include articles in the Iowa Law Review (2019), Alabama Law Review (2018), Washington and Lee Law Review (2017), Minnesota Law Review (2016), Boston College Law Review (2016), Washington Law Review (2016), Washington and Lee Law Review (2015), and Tulane Law Review (2014). Professor Tovino founded the UNLV Health Law Program and served as its director from 2013 to 2018.
Jesse Bull is an Associate Professor in the Economics Department at Florida International University.  His research investigates issues of information disclosure, information verifiability and legal institutions. This uses game-theoretic models of contract and dispute, which focus on incentives to produce hard evidence. These models are motivated by real-world institutional and technological constraints. Bull obtained his Ph.D. from the University of California, San Diego.
Martin F. Grace, J.D., PhD, is the Harry Cochran Professor of Risk Management at the Fox School of Business at Temple University. His is President-Elect of the American Risk and Insurance Association. Until 2017, he was Georgia Regents Professor and the James S. Kemper Professor in the Insight Institute at the Robinson College of Business at Georgia State University. His research interests are in the law and economics of liability and the regulation and taxation of financial institutions. He is a former President of the Risk Theory Society and is a current associate editor of the Journal of Risk and Insurance.
Dr. Li Chen is an associate professor of operations, technology and information management at Samuel Curtis Johnson Graduate School of Management at Cornell University.  Dr. Chen's research interests concern information and incentive problems in operations and supply chain management. Dr. Chen obtained his PhD in Management Science and Engineering from Stanford University in 2005.
Daniel S. Nagin is Teresa and H. John Heinz III University Professor of Public Policy and Statistics at Heinz College, Carnegie Mellon University. He is an elected Fellow of the American Society of Criminology, American Association for the Advancement of Science, and American Academy of Political and Social Science and the recipient of the American Society of Criminology's Edwin H Sutherland Award in 2006, the Stockholm Prize in Criminology in 2014, Carnegie Mellon University's Alumni Distinguished Achievement Award in 2015, and the National Academy of Science Award for Scientific Reviewing in 2017. His research focuses on the evolution of criminal and antisocial behaviors over the life course, the deterrent effect of criminal and non-criminal penalties on illegal behaviors, and the development of statistical methods for analyzing longitudinal data. His work has appeared in such diverse outlets as the American Economic Review, American Sociological Review, Journal of the American Statistical Association, American Journal of Sociology, Archives of General Psychiatry, Criminology, Child Development, Demography, Psychological Methodology, Law & Society Review, Crime and Justice Annual Review, Operations Research, and Stanford Law Review. He is also the author of Group-based Modeling of Development (Harvard University Press, 2005) and chaired and co-edited the report of the (US) National Academy of Science's Committee on Deterrence and the Death Penalty.
Donald Macrae's first career was as a UK Civil Servant, working across nine Ministries in a 32 year career, rising to Director General level.  As a professional lawyer, he was primarily a legislator and policy-maker and he established and ran an elite think-tank of Director Generals exploring the policy function.  In 2007, he went freelance and has established a second career as a consultant on Regulatory Reform, which has covered 30 countries, mainly with the World Bank, USAID and FAO.  Although he works across the range of regulatory systems, his specialty is in Food Safety and the successful delivery of regulatory objectives in practice.  He is currently designing a major food safety project for the World Bank in China, implementing their Food Safety Law of 2015.
Kevin E. Davis is Beller Family Professor of Business Law at New York University School of Law. His research focuses on anti-corruption law, contract law, and the relationship between law and economic development. From 1996-2004 he was an assistant and then an associate professor at the University of Toronto, Faculty of Law. He also has held visiting positions at the University of Southern California, Cambridge University's Clare Hall, the University of the West Indies (Cave Hill), and the University of Toronto. His publications include: "Indicators as a Technology of Global Governance," Law & Society Review (with Benedict Kingsbury and Sally Engle Merry), "Contracts Procured Through Bribery: Zero Tolerance Versus Proportional Liability," N.Y.U. Journal of International Law & Politics and Between Impunity and Imperialism: The Regulation of Transnational Bribery (Oxford University Press, forthcoming).
Veronica Root writes about and researches issues related to corporate compliance, drawing on scholarship from the areas of professional ethics, corporate governance, workplace law, corporate social responsibility, and organizational behavior. She investigates the institutional mechanisms that private firms can utilize to (i) improve long-term compliance with legal and regulatory requirements, (ii) promote ethical norms within organizational environments, and (iii) encourage the development of diversity and inclusion norms. Root's research has appeared or is forthcoming in leading law journals, including the Virginia Law Review, the Cornell Law Review, the Yale Journal on Regulation, and the Fordham Law Review, as well as other journals. She teaches Corporate Compliance & Ethics, Global Compliance Survey, Professional Responsibility, and Contracts.
Pascal Courty is a Professor of Economics at the University of Victoria.  He is an applied economist who has contributed to the fields of industrial organization, sports economics and labour economics.  He has worked at the European University Institute, the London Business School, University Pompeu Fabra and the University of Chicago GSB.  His work has been published in leading economic journal such as the American Economic Review, Review of Economics Studies, Journal of Economics and Statistics, and the Journal of Sports Economics and cited by the CBC, the Wall Street Journal, the New York Times, NPR, the Financial Post and other media.
Dr. Rosanna Guadagno received her Ph.D. in Social Psychology from Arizona State University and completed her postdoctoral work at the University of California at Santa Barbara. She has previously served on the faculties of the University of Alabama and the University of Texas at Dallas and, as visiting faculty, at the University of California at Berkeley and the California School of Professional Psychology at Alliant International University. Dr. Guadagno also previously served as a Program Director at the National Science Foundation managing three programs: Social Psychology; the Science of Learning Centers; and Secure and Trustworthy Cyberspace (SaTC). Currently, she directs the Information Warfare Working Group at the Center for International Cooperation and Security at Stanford University and teaches part time at the University of California, Santa Cruz. Her research interests focus on the confluence of three main areas: Social Influence and Persuasion, Mediated-Communication, and Gender Roles. Her work has been published in journals such as: Perspectives on Psychological Science, Psychological Inquiry, Personality and Social Psychology Bulletin, Computers in Human Behavior, Media Psychology, CyberPsychology, Behavior, & Social Networking, and Sex Roles; covered in the press by: CBS News, The New York Times, The Atlantic Monthly, The New Yorker, The Associated Press, ESPN, The New Scientist, MSNBC, and Alabama Public Radio. Dr. Guadagno is the Editor of the International Journal of Interactive Communication Systems and Technologies and her forthcoming book is entitled Psychological Processes in Social Media: Why We Click.
Vikramaditya Khanna is the William W. Cook Professor of Law at the University of Michigan Law School.  He earned his S.J.D. at Harvard Law School and was Bruce W. Nichols Visiting Professor of Law, Fall 2013 at Harvard Law School.  He was also a senior research fellow at Columbia Law School and Yale Law School, and a visiting scholar at Stanford Law School.  His interest areas include corporate and securities laws, law and legal issues in India, corporate and white collar crime, legal profession and professional responsibility, corporate governance in emerging markets, and law and economics.  He is the founding and current editor of White Collar Crime eJournal and India Law eJournal at the Social Science Research Network and has served as Special Master in a dispute involving an Indian and American company.  He has testified at the U.S. Congress and his papers have been published in the Harvard Law Review, Journal of Finance, Journal of Econometrics, Michigan Law Review, Supreme Court Economic Review, Journal of Law, Economics and Organization, American Journal of Comparative Law, and the Georgetown Law Journal, amongst others.   News publications in the US, India, Germany, Switzerland, Brazil, and the United Kingdom have quoted him.  He has given talks at Harvard, Columbia, Stanford, Yale, NYU, Berkeley, Wharton, NBER, and other venues in the US, India, China, Turkey, and Greece amongst others, including keynotes in the US, Brazil and India.
Michał Kania
Visiting Fulbright Scholar at the George Washington University (Washington, DC)
Professor at the Silesian University in Katowice
Legal Adviser
MBA
Adviser of the Polish Ministry of Development for the PPP and Public Procurement Strategy for Poland
Originator and the first president of the Management Board in: Polish Public-Private Partnership Scientific Support Foundation
Author of more than 100 articles about public procurement, public – private partnership and concession law
Teaches on public procurement law, public – private partnership and concession contracts law, administration law, public investment law, negotiations in public administration, project management