UF Law hosts e-discovery film screening, reception and Q-and-A with director and stars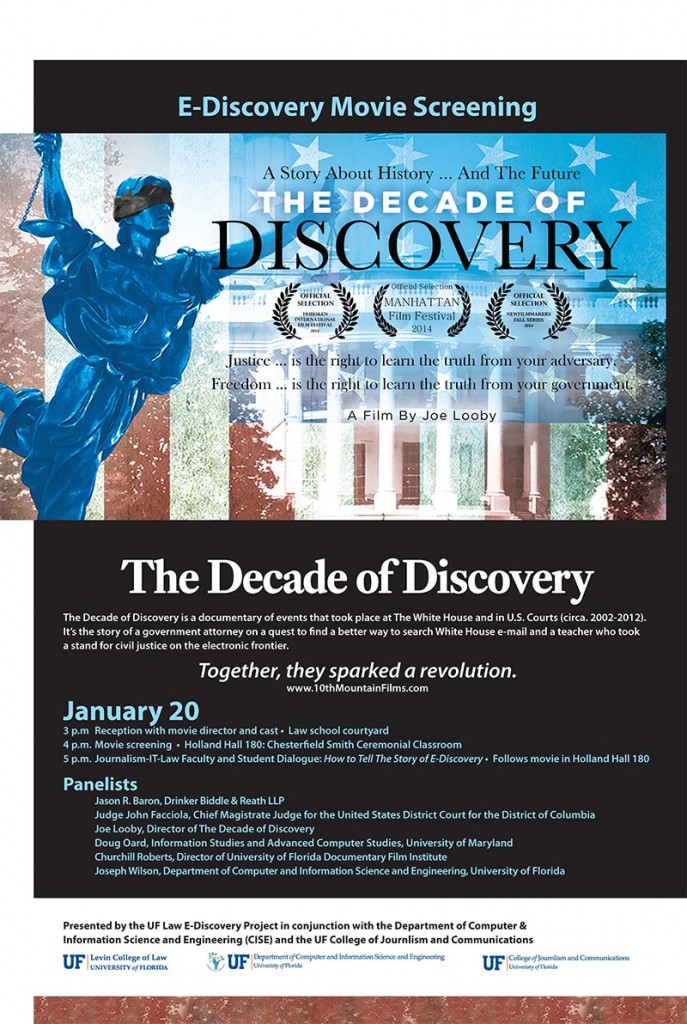 GAINESVILLE, Fla. – The University of Florida Levin College of Law in conjunction with the College of Journalism, the UF Documentary Film Institute, and the UF Computer Science Department of will host a select screening of the acclaimed documentary, The Decade of Discovery, on Jan. 20 at 4 p.m. in the Chesterfield Smith Ceremonial Classroom, HOL 180. It is free and open to the public.
A reception will be held before the screening at 3 p.m. and Q-and-A discussion session will take place at 5 p.m. following the screening. The reception and post-screening Q –and-A with the audience will feature the director and stars of The Decade of Discovery, along with film and computer information and documentary film experts. The complete panel is listed below.
The movie documents the story of a government attorney, Jason Baron, who sets out to find a better way to search millions of White House emails – a near impossible task by the beginning of George W. Bush's term. By examining events that took place at the White House and in U.S. courts between 2002 and 2012, the movie shines a light on the early days of e-discovery and the collaboration between lawyers, judges and IT professionals to solve the data deluge problem that culminated with the introduction of advanced analytics into the practice of law.
"This is a wonderful opportunity because the students get to hang out with the key players in the documentary, who are e-discovery legends; and the screening is a cross college event that shows the interplay of law, computer science, film and journalism," said Bill Hamilton, director of UF Law's E-Discovery Project and the International Center for Automated Research.
"How often do you get to watch a movie, then hang out with the movie's maker and its stars and ask them probing questions about their real-life experiences that you just saw chronicled on film?"
The discussion panel will be live streamed here.
Panelists:
Jason R. Baron, Drinker Biddle & Reath LLP, former chief litigation counsel for the US Archives
Judge John Facciola, former chief magistrate judge for the United States District Court for the District of Columbia
Joe Looby, director of The Decade of Discovery
Doug Oard, Information Studies and Advanced Computer Studies, University of Maryland
Churchill Roberts, director of University of Florida Documentary Film Institute
Joseph Wilson, Department of Computer and Information Science and Engineering, University of Florida