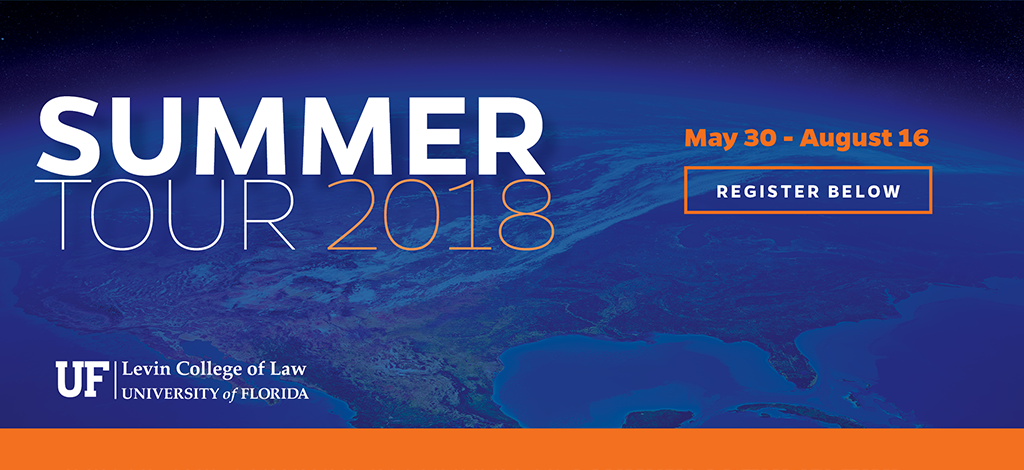 UF Law Launches 12-City Summer Tour
UF Law will make stops in 12 cities this summer as part of the 2018 Summer Tour. Dean Laura Rosenbury and members of UF Law's admissions and alumni teams will travel to eight states and will end the tour on August 16 in San Francisco.
The tour stops will include visits with pre-law advisors, academic leaders, employers, alumni, and admitted/prospective students to cultivate partnerships and discuss UF Law's quest to become a top 10 public law school. Individual event registration pages will be available soon, so we encourage you to check back frequently for updates.
See below for a full list of tour dates:
May 30               Chicago
June 5                Washington, D.C.
June 12-13        Boston
June 19               Tampa
June 20               New York City
June 25               Miami
June 26               Coral Gables
June 27               Jacksonville
July 17                 Orlando
July 18                 Atlanta
August 15            Los Angeles
August 16            San Francisco
We look forward to seeing you on the road!
For more information or to register:
For admissions, please contact Delphine Byrd at dbyrd@law.ufl.edu
For employer outreach, please contact Rob Birrenkott at rbirrenkott@law.ufl.edu
For alumni relations, please contact Mike Farley at farley@law.ufl.edu