UF Law maintains top-tier U.S. News ranking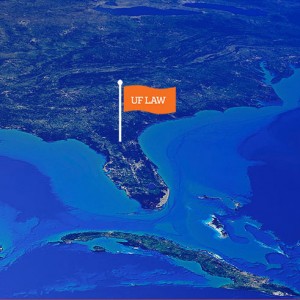 The University of Florida Levin College of Law maintained its top-tier ranking in U.S. News and World Report rankings released today. UF Law was ranked 48th among the nation's 205 accredited law schools.
"Rankings are important because they reflect our reputation on a national scale," said UF Law Dean Laura A. Rosenbury, who has led an intensive review and revitalization of the law school's academic and administrative programs since she became dean in July 2015. "UF Law has been significantly undervalued in these rankings, and we are working very hard to ensure future rankings accurately reflect the excellence of our faculty and educational programs."
"As the best law school in the third most populous state, UF Law should enjoy a higher national profile," said Rosenbury, who went on to note that UF Law would be ranked 37th in the nation if the rankings were based solely on faculty reputation.
"Reputational scores are one of the most important statistics in U.S. News rankings," said Rosenbury. "Moving forward, I expect our overall ranking to be at least as high as our reputational scores."
Early in her tenure as dean, Rosenbury analyzed UF Law's ranking performance. She identified admissions as a primary focus and immediately implemented new admissions strategies that are producing dramatic results.
"Applications have nearly doubled compared to last year," said Rosenbury. "We are on track to enroll a very highly credentialed, diverse class for next fall."
Professor Elizabeth Lear, whom Rosenbury tapped to be the director of strategic planning at the law school, elaborated on the U.S. News rankings process. She emphasized there is a considerable lag between when the data is reported and when it is reflected in the ranking calculation. For example, employment statistics from the UF Law class of 2015, which show continued improvement, were not considered for this evaluation.
"The rankings announced March 16th are the 'U.S. News 2017' rankings. They use employment data from the graduating class of 2014," said Lear. "The employment figures for our 2015 graduates are much better than those used to calculate this year's ranking."
"We are on the move," said UF Law Assistant Dean for Career Development Robert Birrenkott. "Our national rank has improved from 92nd (class of 2012) to 35th (class of 2014) for the percentage of graduates who obtained full time, long term, non-law school funded jobs requiring bar passage, and we anticipate even stronger results for the class of 2015 and beyond."
"These strong employment numbers and the success of our admissions strategy bode well for UF Law's future," said Rosenbury.  "A higher ranking will enhance the value of a UF Law degree for all of our students and alumni.  It is also critical to the university's plan to become one of the very best public research institutions in the nation."
"With the support of our alumni and friends, the University of Florida Levin College of Law has developed tremendous momentum. I am confident that UF Law will become the national powerhouse Florida needs and deserves," Rosenbury concluded.