UF Law Names Admissions Office in Honor of Gerald (JD 65) and Joanne Schackow's $500,000 Gift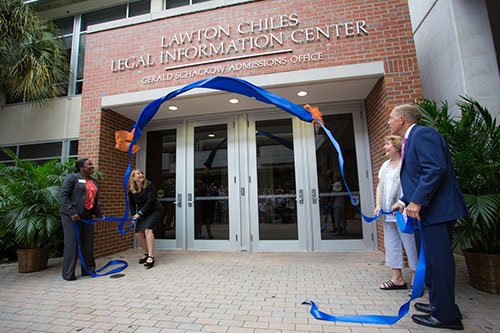 University of Florida Levin College of Law is proud to name its admissions office the "Gerald Schackow Admissions Office" in recognition of a $500,000 gift from UF Law alum and local attorney Gerald "Jerry" Schackow (JD 65) and his wife, Joanne.
An unveiling celebration took place on Friday, Oct. 13, in the Marcia Whitney Schott Courtyard, coinciding with University of Florida's public announcement of its Go Greater campaign to raise $3 billion by 2022.
"Thanks to the incredible generosity of Jerry and Joanne, we will continue to recruit the most highly credentialed students to UF Law," said Dean Laura A. Rosenbury. "The Schackows have set a wonderful example for current and future generations of alumni, and we will be reminded of their generosity for decades to come."
Schackow credits his professional success to UF Law. "We traced back most of our success to having a law degree from Florida," he said.
Schackow has been practicing law in Gainesville for more than 50 years, beginning as a criminal defense and family law attorney before spearheading the local personal-injury firm Schackow & Mercadante, P.A.
Schackow's passion for UF Law goes back several decades with his first gift to the law school in 1985. For the past several years, Schackow has also sponsored a train in the UF Homecoming parade, decorated with UF Law signs and banners.  The train – which he has named the "Schackow Express" – has carried current students, faculty and members of their families down University Avenue.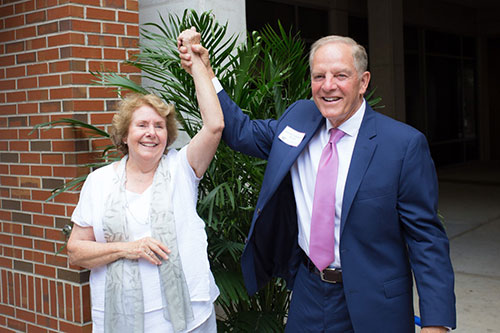 Schackow, an avid Gator sports fan and army veteran, grew up in Ohio before attending the University of Hawaii, where he played football and met Joanne.
The Schackows have four children – Ray (BS 84 Wake Forest), Lynn, Catherine and Brian – who live locally. Three of their children attended UF and have practiced law at the firm. Brian earned a bachelor's degree in history at UF before pursuing his JD in Denver, and Lynn (JD 92) and Catherine (JD 95) earned UF Law degrees.
Schackow hopes other alumni will be inspired by his gift and choose to support UF Law for years to come.
"Your gift, no matter how small or large, will be pushing our law school to even greater heights," he said.