UF Law Namesake Fred Levin Donates Additional $6 Million to College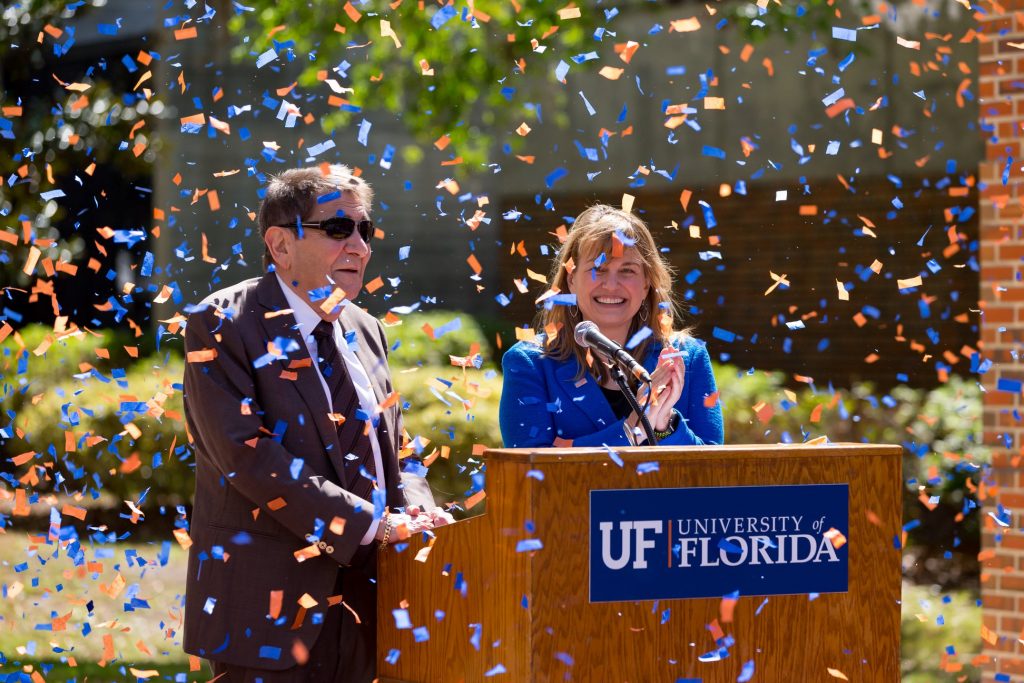 The University of Florida Fredric G. Levin College of Law has received a new gift from namesake Fredric G. Levin (JD 61) in honor of his late wife, Marilyn Kapner Levin. The gift of stock has a current value of $6 million and will be used to fund student scholarships.

Martin H. Levin (JD 88) announced the gift on March 27, 2019, during a ceremony recognizing the 20th anniversary of the $10 million gift that named the College of Law in 1999. At the time of that transformative gift, UF Law was ranked 47th in the nation and 22nd among public law schools. Today, the Levin College of Law ranks 31st overall and 12th among publics.

"Today, I'm proud to announce that my father has just made another gift to this law school. It's 300,000 shares in a publicly-held company and as of last night's close, the gift is valued at $6 million," Martin Levin said. "My father is making that gift in honor of my mother."

With this latest donation, the Levin family's contributions to UF Law have totaled more than $20 million. Their generosity has enabled the law school's endowment to grow from $28 million in 1999 to more than $108 million today.

"We are incredibly honored and humbled by the ongoing support of Fred Levin and his family," said Laura A. Rosenbury, Dean and Levin, Mabie & Levin Professor of Law. "The $10 million gift in 1999 was the largest private contribution to any law school at the time, and the Levin family's generosity has helped propel the Levin College of Law to where it is today. This new gift of $6 million will be used to support our amazing students, enabling them to enter the careers of their choice without significant debt."

Martin Levin said that his father's contributions will help students who may not otherwise have the opportunity to attend law school.

"Dad says we must provide those opportunities to others," Martin Levin said during the celebration. "He says that the future leaders – those who are going to make a difference – in all likelihood are not going to be the wealthy, the privileged, but someone we've never heard of. Someone who's worked their way up."

The event included remarks from a number of alumni and university leaders. View photos from the 20th anniversary celebration and watch the full event online.