UF Law posts No. 1 employment rate in Florida, nearly 11 points above national average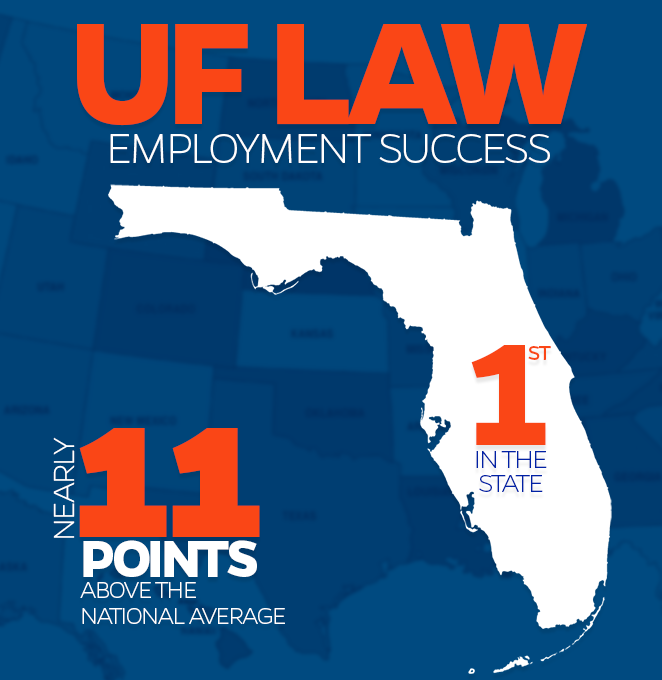 University of Florida Levin College of Law ranks first in the state and 31st in the nation for employment success, according to data recently released by the American Bar Association.
For the Class of 2017, 86.1 percent of UF Law graduates were employed in full-time, long-term legal jobs 10 months after graduation. This rate places UF Law nearly 11 points above the national average of 75.3 percent. UF Law also ranks 16th in the nation for graduates employed in full-time, long-term legal jobs or pursuing graduate degrees.
"We are very proud that UF Law is first in the state for full-time legal jobs after graduation," said Dean Laura A. Rosenbury. "Given the passion and strength of the Gator Law Nation, I am confident that our placement success will only improve for the Class of 2018 and beyond. The future is very bright for graduates of UF Law."
Of Florida schools, UF Law had the highest number of recent graduates – 20.4 percent – employed either in federal clerkships or at "elite" firms, which employ more than 100 lawyers.
"It is wonderful to see the collective efforts of UF Law alumni, faculty, and staff produce great outcomes for our graduates," said Rob Birrenkott, Assistant Dean for Career Development.  "It reinforces my belief that the Gator Nation is more than a slogan.  We have consistently improved employment rates over the past five years and we look forward to continuing on this trajectory."