UF Law professor honored as Tax Lawyer of the Year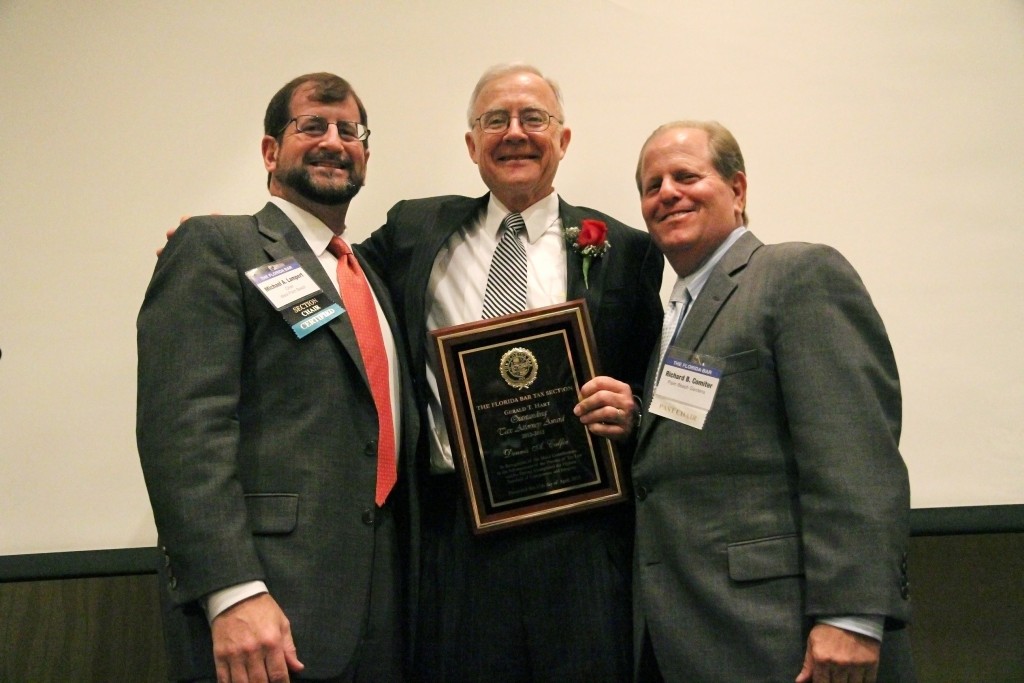 GAINESVILLE, Fla. – The Florida Bar Tax Section recognized University of Florida Law Professor Dennis Calfee as the Gerald T. Hart Outstanding Tax Attorney of the Year on Saturday at the section's 35th annual meeting.
Participants repeatedly praised Calfee for his energetic assistance to students and colleagues during his career on the UF Law Graduate Tax faculty that began in 1975. During his tenure, Graduate Tax has evolved into the top ranked public school tax program in the nation, as measured by U.S. News and World Report. Calfee was selected based on the significant impact he has made in improving the quality of tax law practice in Florida and the United States.
"We know Dennis in a lot of different ways, wearing a lot of different hats in the program," said UF Law Graduate Tax Director Michael Friel during the ceremony at the Hilton University of Florida Conference Center. "He is – as we all know – an extraordinary scholar with a leading treatise in the country in estate gift tax. He is … a truly extraordinary teacher."
Friel was among many speakers, including UF President Bernie Machen and UF Law Dean Robert Jerry and numerous UF Law alumni, to acknowledge Calfee's vast influence and reputation in the tax world.
Friel said in addition to being an extraordinary friend and colleague over the years, Calfee has provided an incredible degree of service to UF Law's graduate tax program, the Law Center Association and the Florida Law Review, where Calfee serves as faculty adviser.
Calfee matriculated through the UF Law graduate tax program's inaugural class and after earning his LL.M. in taxation in 1975, was asked to remain in Gainesville as an interim professor for one year, which led to his many subsequent years as an integral part of the tax program.
Throughout his career, Calfee has served as a mentor to, and influenced, many tax attorneys in Florida, across the country and around the world. He has served as associate dean at UF Law, been nominated twice as Professor of the Year and in 1998 was appointed an Alumni Research Scholar. He has also taught at Peking University in Beijing, the University of Leiden in the Netherlands, the Academy of International Tax in Taiwan, and the University of Montpellier in France. In 2006, the Republic of China Ministry of Finance honored him with a third level public finance specialty medal in recognition of his guidance in developing Taiwan's public finance system and training tax officers.
At the end of the ceremony, Dean Jerry and UF Law alumnus Richard Comiter announced the successful completion of the campaign to endow the Dennis A. Calfee Eminent Scholar Chair in Taxation.
"That hundreds of alumni contributed to making this chair a reality is a testament to Dennis's impact on so many students through not just the years, but the decades," Jerry said.
Approximately 240 alumni and guests attended the tax section dinner honoring Calfee, including many of Calfee's former students and research assistants.
The first Gerald T. Hart Outstanding Tax Attorney of the Year award was given to UF Law emeritus faculty member James Freeland in 1982. Other UF Law faculty recipients include Richard Stephens in 1985, current adjunct Samuel Ullman in 1994, and David Richardson in 2000.
For more information:
Matt Walker, UF Law Communications
352-273-0650, mlwalker@law.ufl.edu