UF Law Professor Recognized Statewide for Child Advocacy Work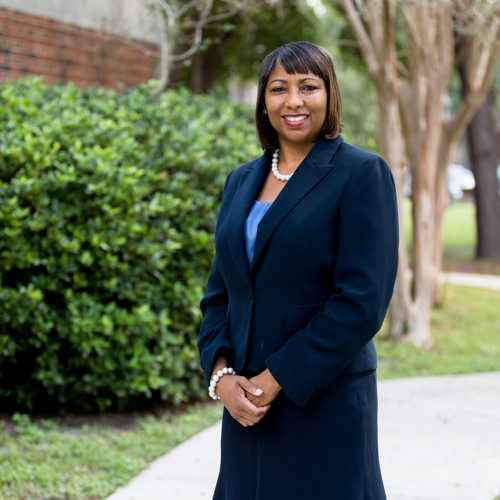 The Florida Guardian ad Litem program is recognizing UF Law Professor Meshon Rawls (JD 98) for her outstanding work advocating on behalf of special-needs children.
The Guardian ad Litem program honored 21 attorneys across the state – one from each circuit – but selected Rawls as the only statewide honoree.
The honorees will receive scholarships to the 2018 Guardian ad Litem Disabilities Training Conference.
"Children have rights," Rawls said. "Sometimes, in the bureaucracies we are in, we forget that they have a voice. Our motto is one child, one advocate, one voice, and if you can be a voice for a child, that's priceless."
Rawls' honor was tied to her months-long work helping a 14-year-old boy in the custody of the Department of Juvenile Justice attend his mother's funeral. She worked on the case in her capacity as an attorney and Director of Gator TeamChild Juvenile Law Clinic, founded in 1998 and housed at UF Law.
"We try to take the most complex cases," said Rawls who is board-certified in juvenile law. "So any case that we're going to take is going to have multifaceted issues. Typically we handle cross-over cases, children that have matters pending in both dependency and delinquency court."
Gator TeamChild, which manages 50-60 active cases per year, enrolls eight 2L or 3L students to participate in the clinic each semester. The students are certified by the Florida Supreme Court to handle cases related to dependency, delinquency, school suspensions, and school expulsions.
According to Rawls, Gator TeamChild serves a community need because most law firms do not have a singular focus on juvenile cases. "So Gator TeamChild is like a full-service law firm for children," she said. "Any issue where a child might be hauled into court for whatever reason, we try to develop our skill set so that we can address those issues and advocate on behalf of the child."
During her time as a UF Law student, Rawls participated in the law school's criminal defense clinic. After graduation, she worked at the Eighth Judicial Circuit Public Defender's Office, representing clients in the misdemeanor, felony and juvenile divisions.
Rawls recognized that issues contributing to repeat offenses, such as drugs or mental health issues, were more difficult to resolve in adult defendants. According to Rawls, if these issues were addressed in children, the rate of recidivism would decrease and the likelihood of the children being successful would increase.
This realization encouraged Rawls to become active in the community. She serves on the Alachua County Juvenile Justice Council, was appointed to The Florida Bar committees on Juvenile Law Certification and Legal Needs of Children, and has served on the Florida Supreme Court Steering Committee on Families and Children in the Courts.
"Going to a funeral is not a legal issue, but it was important for that child at that moment in time," Rawls said. "Somebody had to hear and see how him being able to do that was important in so many ways that we could never imagine."