UF Law Professors Publish Antitrust Handbook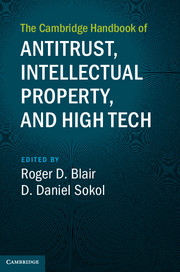 High-profile antitrust lawsuits around the world today are dominated by issues relating to high-tech and intellectual property. A new handbook edited by UF Law Professors D. Daniel Sokol and Roger Blair takes a deep-dive into these issues.
"These are some of the highest profile companies and these are bet-the-company type issues," said Sokol, the UF Foundation Research Professor of Law. He rattled off big names involved in these lawsuits – Apple, Amazon, Facebook, Qualcomm, Samsung, Google, Microsoft, and major pharmaceutical and media companies.
The Cambridge Handbook of Antitrust, Intellectual Property, and High Tech was published in May by Cambridge University Press.
"The idea of the handbook is to have a global approach, to really put together in-part, a retrospective of where is the scholarship to date – what do we understand about the case law and scholarship in law and economics of antitrust as it relates to high-tech and intellectual property issues," Sokol said.
The handbook also provides analysis and policy suggestions for each topic covered.
"The overall coverage gives you a sense of what this tension is and the limits of IP and antitrust in this interface.  I think it's important because it's not well understood," said Blair, who is an affiliate professor of law and the Walter J. Matherly Professor of Economics. "This should help people understand better."
The handbook brings together leading experts in economics and law from around the world to write a combined 23 chapters. Sokol co-wrote a chapter on "big data" and antitrust. Blair co-wrote a chapter on intellectual property and monopoly power.
While a somewhat imprecise term, "big data" refers to large amounts of datasets and the use of large computing power to mine value from that data, according to the Organization for Economic Co-operation and Development.
But while big data in theory could threaten consumers, Sokol explains that no cases yet exist yet linking antitrust issues to competition harms stemming from big data.
"I work through what is the evidence to date, what are the theories, what are the cases, and I argue, as of yet, the concern is a little overblown based on what we actually see in practice," Sokol said.
Blair's chapter discusses the natural tension between intellectual property rules and antitrust.
"IP gives you a legal monopoly for a certain period of time and antitrust laws are designed to thwart monopolies," Blair said.
He explained that in the United States, intellectual property is superior and a company has to do something egregious in order to face penalties over an IP antitrust issue.
The handbook's target audiences are academics, practitioners and government enforcers – in both law and economics.
"The handbook is impactful," Sokol said. "I've seen citations to chapters in the handbook in governmental and inter-governmental documents in addition to various law review articles."
Sokol and Blair are working to organize, along with UF Professor David Sappington, Eminent Scholar in the Department of Economics and Director of the Robert F. Lanzillotti Public Policy Research Center, on an Online Platform Competition conference for March 2018. It will bring interdisciplinary experts from around the world to UF's campus to discuss online competition issues facing major companies such as Amazon, Uber, Google, Tinder, and Apple. Blair, Sappington, and Sokol are organizing a special issue of the International Journal of Industrial Organization based on peer reviewed submissions for the conference. The conference is part of the UF Competition Policy Initiative that links faculty across colleges at the University of Florida for conferences, lecturers and research on competition related issues.
For Sokol and Blair, this is merely another of a series of collaborations on conferences and academic research projects.  Together they have co-edited two other books on antitrust economics for Oxford University Press and a series of law review articles examining the goals of antitrust, antitrust health care, and efficiencies in mergers.
"Working with Roger is great," Sokol said. "He is an economist who really comprehends law and policy.  With five citations to his work by the U.S. Supreme Court and over 80 lower court decision citations, he understands how economic arguments can be used to shape case law.  Many of my best experiences as an academic at the University of Florida are a result of my almost daily interactions with Roger."