UF Law Professor's Research on "Reckless Discrimination" Nationally Recognized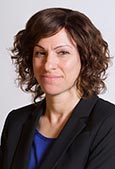 From the Black Lives Matter movement to debate about adequate training for police officers, a national conversation about implicit bias is underway. But jurisprudence is sorely lagging when it comes to remedying implicit bias in the workplace and UF Law Associate Professor Stephanie Bornstein's research underscores the need for change. She argues an employer not confronting known bias in its ranks could be considered reckless.
In "Reckless Discrimination," forthcoming in the August 2017 issue of the California Law Review, Bornstein argues that a wealth of knowledge exists about how bias affects workplace decisions, and how to prevent it from doing so.  Some technology companies are even designing products to curb bias in the hiring process.
Bornstein's work has been selected as a winner of the 2017 paper competition by the Southeastern Association of Law Schools. Papers chosen by committee for the honor reflect outstanding scholarship prepared by a faculty member in the prior year. Bornstein will receive recognition when she presents her paper on Aug. 1 during the SEALS annual conference in Boca Raton.
"The argument I'm making in this piece is that, given decades of research and preventative tools now available, employers who behave so recklessly about this issue could be on the hook for intentional discrimination," said Bornstein, explaining a tort definition of recklessness could be used – "conscious indifference to the risk of bias infecting employment decisions."
She argues change can come from the way a legal case is framed under existing law and by advocating for greater coherence in workplace law jurisprudence.  This, she believes, is arguably more achievable than overcoming legislative gridlock to advance equality at work.
Read more of Bornstein's research on her SSRN page.
Here's a look at all UF Law faculty presenting at SEALS:
July 31: Professor of Legal Research Todd Venie is presenting at the discussion group "Legal Research and Law Practice Technology Pedagogy."
Aug. 1: Associate Professor Stephanie Bornstein is presenting "Reckless Discrimination."
Aug. 2: Professor Jason Nance is presenting "Student Discipline, School Surveillance, and Racial Disparities: A Call for Legal Reform."
Aug. 3: Associate Dean for Faculty Development Darren Hutchinson is presenting at the discussion group "The Future of LGBTQ Rights."
Aug. 5: Associate Professor Stephanie Bornstein is presenting at Works-in-Progress: Public Law and the discussion group "Intentionally Disparate?: A Reflection on Recent Developments in Individual Disparate Treatment Law."