UF Law reaches 31 in U.S. News rankings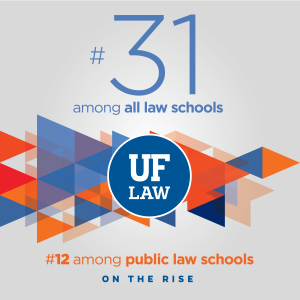 University of Florida Levin College of Law has reached its highest-ever ranking in the latest U.S. News & World Report law school rankings, placing 31st among all law schools, 12th among public law schools, and 1st in the state of Florida.
This new ranking marks a 10-point leap in UF Law's overall ranking in just one year and a 17-point climb since 2016. UF Law's Graduate Tax Program remains 3rd in the nation and 1st among public law schools.
"We are energized that UF Law is on the rise," said Laura A. Rosenbury, Dean and Levin, Mabie & Levin Professor of Law. "Our new ranking better reflects the quality of our student body, the rigor of our faculty and programs, the stature of our job placement, and the support of our alumni and friends."
UF Law's rise plays a critical role in University of Florida's larger goals.
"UF Law has been on an incredible trajectory over the past several years," said UF President Kent Fuchs. "The law school's rapid rise among the best law schools in the nation supports our quest to become a top-5 public research university, increasing the value of every UF degree."
U.S. News analyzes a variety of metrics to calculate the rankings, including entering student credentials, faculty reputation, assessments from lawyers and judges, and employment outcomes.
"We remain laser-focused on raising our national profile," Dean Rosenbury said.  "Our record-breaking fundraising has energized students around the country to apply to our programs, resulting in the most highly credentialed and diverse classes in UF Law history.  We will continue our quest to become a top 10 public law school."