UF Law students give back during inaugural Alternative Spring Break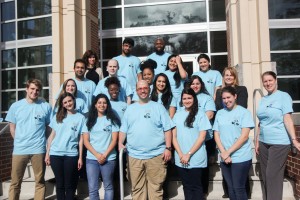 A group of hardworking UF Law students recently traded in the sun-soaked beaches of Miami and Mexico for the opportunity to serve others and learn more about the legal profession through the inaugural Alternative Spring Break service project. The project set up locations in Jacksonville and Immokalee.
The Alternative Spring Break program was designed to provide UF Law students with an opportunity to engage in pro bono work and gain real-world legal experience and exposure to issues that affect marginalized communities.
The eight students in Jacksonville partnered with Three Rivers Legal Services and Jacksonville Area Legal Aid. Their time with Three Rivers was spent participating in the Seal & Expunge Clinic, which helps low-income individuals apply to have their criminal records sealed or expunged. The students also helped Jacksonville Area Legal Aid with its Consumer Law & Advocacy Unit by corresponding with clients to determine their legal issue and whether they qualified for the JALA services. The activities allowed the students to learn about interviewing clients, drafting pleadings and navigating an electronic case management system.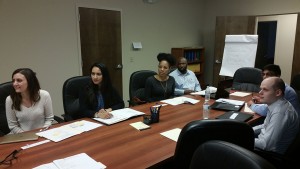 "Most importantly they learned the value of pro bono and community service," said Ben Silva (3L). "They interacted with clients who were in dire circumstances and would have no one else to turn to if it was not for the services Three Rivers Legal Services, Jacksonville Area Legal Aid, and the Clara White Mission provide."
Meanwhile, the seven students who participated in the Immokalee portion spent time learning about the hardships faced by migrant farmworkers. They teamed up with Florida Rural Legal Services and the Farmworker Association of Florida to learn about the effects of harmful pesticide use on the farmworkers who tend to the crops. They visited Lake Apopka to see firsthand how the lake had been harmed by the dumping of pesticides. Students also spent time explaining to migrant farmworkers in Arcadia their legal rights.
"I learned that there are severe human violations in my own backyard, and that the food we often eat on a daily basis is because of farmworkers' rights being violated," said Immokalee participant Irene Sepulveda (2L). "However, I also learned that there is a large group of passionate people, like the Coalition of Immokalee Workers, Farmworker Association of Florida, and Florida Rural Legal Services, that has dedicated its work to improving the working conditions of migrant farmworkers. If each person takes the time to listen and learn, we could all make a difference."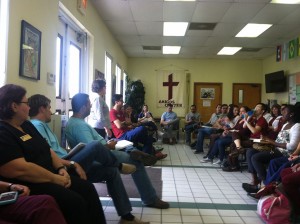 That attitude was spread throughout the students who attended and it left a lasting impression on Marisol Silva (2L), who is not related to Ben Silva.
"I was truly inspired by the students on this trip for their passion for using their law degrees to make a difference in their communities," said Marisol Silva. "Seeing my group grow in their awareness and views was extremely fulfilling."
Both sets of students were met with open arms from attorneys known for their pro bono work.
The Jacksonville group was treated to a happy hour hosted by Jacksonville Area Legal Aid Director of Pro Bono Kathy Para as well as a UF Law alumni reception hosted by Holland & Knight Pro Bono Director Buddy Schulz (JD 73). The event provided students the opportunity to network and meet with numerous UF alumni in the Jacksonville area who are known for their pro bono and community service.
Those students who traveled south to Immokalee were granted the opportunity to have dinner with Florida Rural Legal Services attorneys Sara Mangan and Anais Bimonte, as well as attorney Leilani Martinez and Magistrate Judge Gilberto Perez.
Due to the overwhelming success of the inaugural Alternative Spring Break project, Marisol Silva plans to make this an annual tradition. Other students who participated echoed those sentiments, with some even calling for an expansion to out-of-state and even international trips.
Marisol Silva was inspired to start the Alternative Spring Break after her summer as a Peggy Browning Fellow in Queens with the Make the Road New York, an immigrant workers center.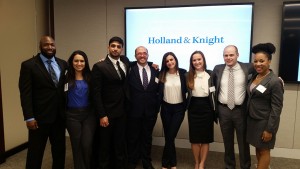 "I witnessed the incredible passion and perseverance of the Latino immigrant community at MRNY to strive for social change working with community organizers and attorneys," Marisol Silva said. "My hope is that Alternative Spring Break serves as a springboard for law students to engage in pro bono and public service throughout their careers to become lawyers for a cause."
First-year student Jasmine Brito grew up in Immokalee to parents who were farmworkers. The issues they faced mainly dealt with the lack of economic opportunities, but the alternative spring break opened her eyes to many other problems plaguing farmworkers.
"I was less aware of the health risks that farmworkers are faced with and the minimum oversight in agriculture," Brito said. "It was rewarding and humbling to participate in that discussion and bring awareness. I hope that this experience allows others to be conscious of the inequalities that communities like Immokalee face and that service is a duty that extends beyond a spring break."
Others were also moved by the plight of the Immokalee farmworker.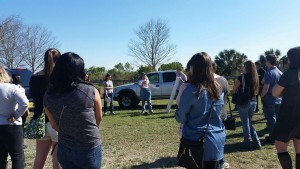 "As law students we need to work harder for an equitable future for farmworkers, and their struggle is far from over," said Jivesh Khemlani (1L). "As future leaders, we must be proactive to protect against such abuses of power. It is amazing the human and environmental impact of farming that we never stop to consider."
The service project was conceived by Marisol Silva and was initially planned to take place in Immokalee. Ben Silva heard of the plan and was immediately on board. He helped organize the event and offered to expand it into Jacksonville. Both students received a tremendous amount of help from UF Law Professors Stephanie Bornstein and Joan Flocks (JD 91), as well as Assistant Director for Career Development Erin Carr and Director of Student Programs Michelle Ocepek.
Five UF Law organizations, The Latino Law Student Association, the Association of Public Interest Law, the Immigration Law Association, GatorLaw ACLU, and the Labor and Employment Society, co-sponsored the project.
The project was also sponsored in part by the University of Florida Levin College of Law Joseph Little Pro Bono Support Fund, which was established by Philip A. (JD 73) and Phyllis S. DeLaney to help offset out-of-pocket expenses incurred by students who volunteer for pro bono work.