UF Law's Tax Moot Court Team Takes Top Spot in National Competition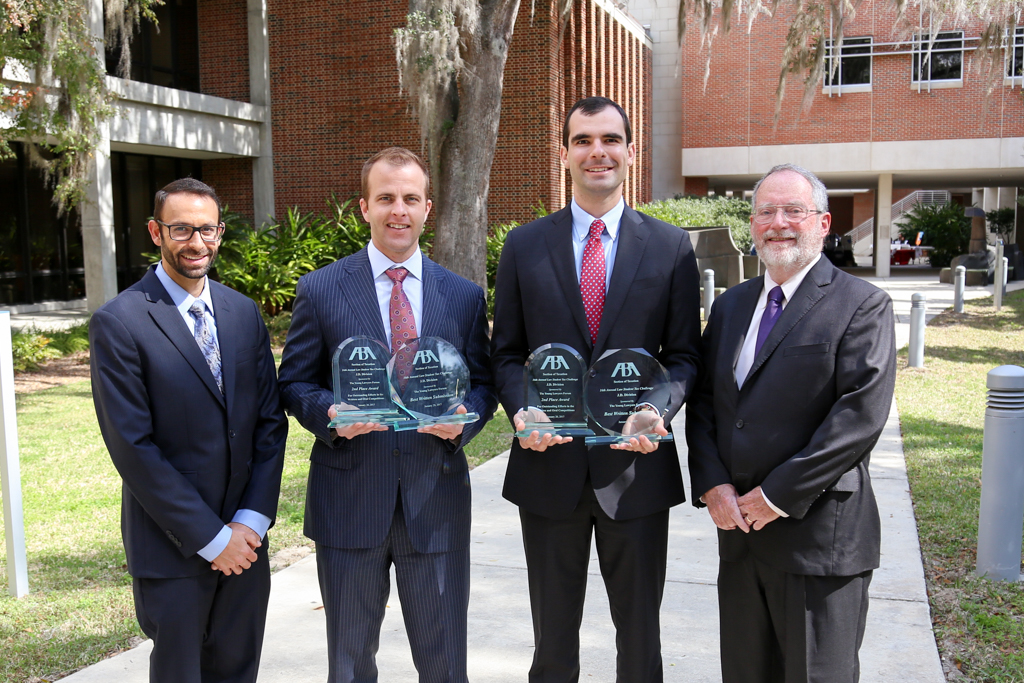 UF Law's Tax Moot Court team took home a national title at the American Bar Association's Law Student Tax Challenge, placing ahead of nearly 65 teams during the  Jan. 18-21 ABA Tax Section 2017 Midyear Meeting in Orlando.
Third-year law students George "Chip" Gray and Joshua Jacobson placed first nationally for best written memorandum and second nationally for best oral presentation.
According to coach and UF Law Professor Steven Willis, each team was given a complex business law fact pattern revolving around a client's tax return. The teams were then asked to write a 10-page memo to be read by a law firm partner and a five-page client letter addressing questions asked in the fact pattern.
Willis coached the team alongside Visiting Assistant Professor Adam Smith.
"Chip and Josh's success in this competition exemplifies our students' dedication to learning and understanding not only substantive tax law, but also how to effectively apply that knowledge in a practical setting," Smith said. "They demonstrated that UF tax students are practice-ready."
Willis said he is very proud of the team. "I understand their written memos were well ahead of the others," he said. Willis was also impressed by the team's oral presentation.
It's been a busy year so far for Willis who is also the faculty adviser for the Volunteer Income Tax Assistance program, which trains students and community members to help prepare tax returns for low-income individuals through the United Way of North Central Florida. VITA also helps prepare returns for international students.
So far, the program has helped to train 175 volunteers in the community – half of which are UF students.
"We annually prepare over 750 tax returns for low income taxpayers, so we play an important role in the community," Willis said.  "We are the largest site in the three-county area and are considered a large site nationally."
Interested in becoming a VITA volunteer? Contact Jason Giancarlo at jgiancarlo@unitedwayncfl.org.
To schedule an appointment to have your taxes prepared by a volunteer call the United Way at 352-332-4636.