UF Moot Court Team Wins Florida/Georgia Competition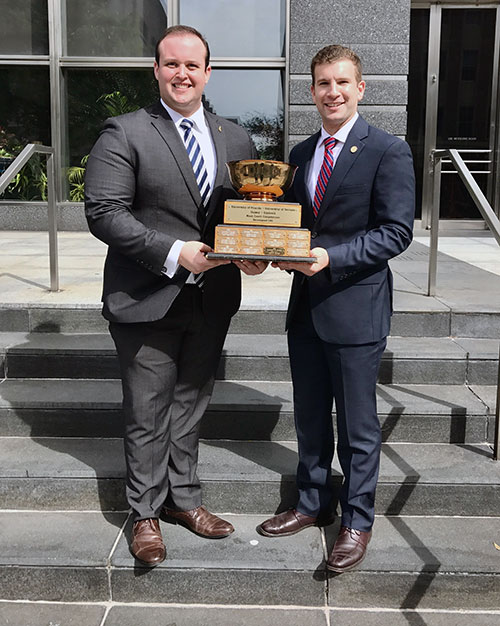 The University of Florida was victorious in two competitions in Jacksonville Oct. 28-29, defeating the University of Georgia in the courtroom and on the field.
The Levin College of Law's Moot Court Team defeated UGA Law to take home the trophy from the 36th annual Florida/Georgia-Hulsey/Gambrell Moot Court Competition, held at the Bryan Simpson United States Courthouse.
Florida's win also vanquished a decades-old pattern that the school to win the moot court competition typically loses the next day's football game. Larry Russell, attorney with the sponsoring law firm Smith Hulsey & Busey, told the Jacksonville Business Journal that the win/lose pattern occurred during for 19 of the competition's first 20 years.
"If there's a curse, we broke it," said Austin Sherman (JD 17) who brought home the victory for UF Law with teammate Logan Opsahl (JD 17). "It was really an honor to bring home a win for UF and the great state of Florida," Opsahl said.
The teams were asked to argue the constitutionality of a fact pattern among two issues dealing with county ordinances, each on appeal. UF Law represented the appellants, the citizens, and Georgia represented the appellees, the city.
In one scenario, Sherman argued that a city ordinance requiring tour guides be licensed before giving tours of the area's historic locations was unconstitutional. "It was a content-based restriction on free speech and outside of that, the tour guide ordinance did not pass strict or intermediate scrutiny because it was not narrowly tailored," Sherman said.
Logan took on the fact pattern's second prong, arguing that the city's ordinance to restrict or prohibit ownership of certain weapons was overly broad and stifled Second Amendment rights.
"My issue was really interesting because it's such a contentious topic," Opsahl said.
The panel comprised Senior U.S. District Judge William Terrell Hodges (JD 58) of Ocala, U.S. District Judge William Moore of Savannah, U.S. District Judge Timothy Corrigan of Jacksonville, U.S. District Judge Marcia Morales Howard (JD 90) of Jacksonville and Chief U.S. District Judge Lisa Godbey Wood of Brunswick.