Welcome to UF Law, from Dean Jerry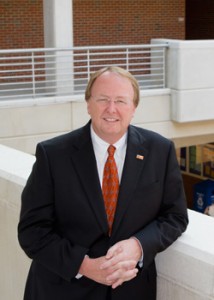 As the academic year begins, we welcome the new and returning members of the UF Law Gator Nation — students in our J.D., LL.M. and S.J.D. programs, and our faculty and staff. This promises to once again be an active and exciting year on campus, with many visits expected from some of the nation's leading legal professionals, public officials, and legal scholars. Visits like these are common here, and when combined with our rigorous curriculum and many other activities, have helped us earn a very strong reputation for leadership development.
For students new to UF Law, I expect your academic experience to prepare you to be not only an effective legal practitioner but also a better citizen and leader in your community and the legal profession. Make the most of your time here, not just in class, but by developing strong relationships with your fellow students and future colleagues. Our alumni tell us they call on these relationships often throughout their careers, and great rewards can be found by reaching beyond your comfort zone to develop friendships with classmates very different than you. Our faculty and every student accepted here have records of extraordinary accomplishment, and we can all learn much from each other.
Please visit our website at www.law.ufl.edu and carefully read the University of Florida Student Honor Code. Academic honesty and integrity are fundamental values of the UF Law community, and students who enroll at UF commit to holding themselves and their peers to the highest standard of honor required by this code. Also, our website contains important policies and guidelines to which students and other members of our community are expected to adhere. You are preparing to become a part of a noble profession; this means your professional reputation and legal career begin here, and it is vital that you act accordingly.
Our website also offers details and updated information on support services, financial information, student organizations, centers and institutes, course descriptions, faculty and staff, maps and other helpful resources. And each week class is in session, be sure to read FlaLaw Online or in your email to keep up with the many activities and events at the law school, including important information about career development and student services, alumni activities and more.
It is great to be a Florida Gator. Welcome to the Levin College of Law.
— Dean Robert Jerry